Girls golf tees up a new season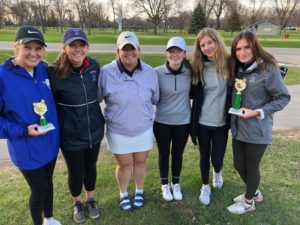 Girls golf has always hosted a small group of athletes, from individuals who go on to play in college to those who simply want to play for fun or have taken golf lessons at a local country club. This year, the golf team has gained some members with girls seeing an opportunity to join a welcoming sport and trying something new.
Every day after school, the group heads out to Baker Park Golf Course with the boys golf team, and has a practice beginning with putting warm-ups followed by driving practice or a full round. It is different than other sports because there are far fewer drills to work on in golf, and it is much more of an individual sport, meaning team improvement relies heavily on individual improvement.
While everyone wants to improve themselves and the team, many girls, especially on the JV team, view it as an opportunity to be outside and be active, as well as be a part of a team. A group of seniors took the opportunity to try golf team for the first time this year, as golf is welcoming and has a spot for people of all ability.
"You should see me swing. I can swing like no one's business," said first-year golfer Emelia Lowe. She began golf this year after having very little experience prior to the season. The girl's golf team has helped new players, like Emelia, find their strengths on the course and work to make them better players with whatever skill sets they have.
"
You should see me swing. I can swing like no one's business,"
— Emelia Lowe
Although high school sport is not as much of a spectator sport, the girls still find support amongst each other. There is no team play like other sports, it is all an individual mental game that contributes to the team as a whole, adding to and affecting team average that shows team placement at each meet. Girls can also earn individual rankings.
"I was also on the varsity basketball team since my freshman year. Golf is based on your individual score and you have to have a good mental game during your round because you can't rely on other people. You can only rely on yourself," said senior captain Alayna Eichstadt.
The team wants to work to gain more momentum and get girls who are invested in the sport, but also continually pick up beginners. As with any sport, it is encouraging to see newer players feel welcome to join a team at any level, and this is one way for the sport of girls golf to gain more recognition for their hard work.
"The team dynamic is a lot more united than you'd think, although it is an individual sport you still feel like you're part of a team and a family," said first year senior varsity player Megan Larson. "I have played golf outside of school since I was about three and it's very relaxing for me. I joined the team this year because my best friend is the captain, I needed a change and wanted to have more fun in the spring of my senior year, and so far it has been really fun and welcoming."
For some girls on the team, it is simply an after school hobby. For others, it is a passion that will lead their futures through collegiate levels and into their adult lives. Not only can it form relationships with others who share the same passion, but golf is a skill that can be used for socializing or even business related tasks in the future.
"I love the game of golf and wanted to keep playing competitively. I am excited to start playing at the next level," said Eichstadt, who is committed to continue her love of golf at the collegiate level next year at Luther College.
For now, many girls are working their hardest to have a successful and fun season. The girls golf team will be graduating a handful of seniors this year, but will leave behind a legacy of inclusion and commitment to a team that is fundamental to Orono.
About the Contributor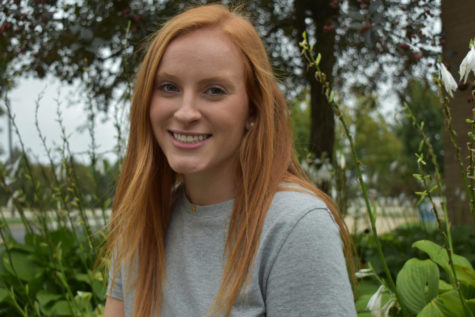 Caroline Robson, News Editor
Hi, I'm Caroline Robson. I am a senior this year and I am a news editor on The Spartan Speaks. I am super excited for this year of the newspaper. This...