Freshman Golf Star: Camille Kuznik
Hang on for a minute...we're trying to find some more stories you might like.
Camille Kuznik is a freshman golf star. Camille is only 15 years old and has been golfing since she was two and has been playing on the Orono Varsity Golf Team for three years now. As well as playing on the team, she takes year round lessons at the Edinburgh golf course.
"Even though we are all worse than her, she never judges us. We can always ask her for help and she knows what to do to help us become better golfers," senior Mandy Johnson said.
Golfing seems to run in the family, as both her older brothers and dad play as well. Her older brothers have been her biggest motivators and influencers throughout her golf career. What pushes her the most is seeing her brothers try so hard and watching as it helps them get into better colleges.
Camille has made many accomplishes throughout her golfing years. In spring of 2015, she competed in the Drive Chip and Putt Championship in Augusta. At this time she was only 11, and still managed to place in 6th, according to Minneapolis WCCO. She also holds a course record of 67 at the Pioneer Golf Course.
She also competed in the 2016 MN-WI Jr. PGA Cup at SentryWorld Golf Course in Stevens Point, Wisconsin, according to PGA Minnesota Selection. She was representing the Minnesota Team at the competition. She also played in a worldwide tournament held in California and placed 3rd in her age group out of 150 people.
During the 2017 golf season, she placed 10th in the state tournament. Her goal this year is to place in at least the top three.
"She is the best player and always has a really good attitude. She's been playing varsity since she was in seventh grade. She loves the game of golf and she's fun to watch because she attacks the golf course," varsity golf coach Gary Severson said.
As well as being a great golfer, she is also a great encourager on the team.
"She is really funny and I love her. She is really talented and one of the best golfers in the state! She always has a positive attitude and gives us good advice on how to improve," senior Nicole Neuburger said.
The only downside of the golf season is missing school. Golf starts to negatively affect school when the team has multiple golf matches in one week and they have to leave early several days a week. This results in missing class and getting behind in work.
"Camille is a great golfer and helps us to be better. She encourages us even on our bad days," sophomore Liz Gibson said.
As well as golf she also participates in downhill skiing in the winter. Not only is she a golf star, but is also very accomplished in skiing. During the 2016-2017 season, she was the number one qualifier in Minnesota for the junior olympics and placed 8th in the race. She is also apart of something called Central Team, which is eight girls and eight boys from around the country that meet together in Colorado to train.
"Teamwork really plays a role in an individual sport like golfing and skiing because it's helpful to have others there to support you and help you to not stress out over every bad shot. It's all about just having fun with others," golfer Camille Kuznik said.

About the Writer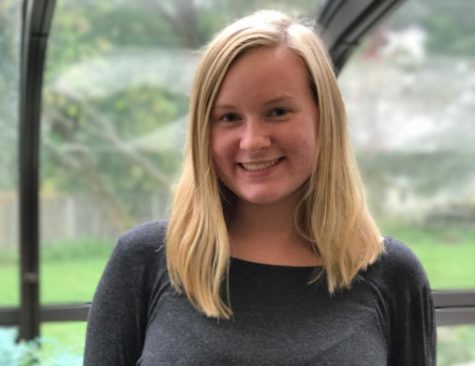 Lindsay Craft, News Editor
Hi, my name is Lindsay Craft and it is my first year being on newspaper. Last year as a junior I took Journalism I and am now in Journalism II as a senior....