Orono Mound-Westonka Swim and Dive Sections
Update:
The Orono Mound Westonka Men's Swim and Dive team has officially wrapped up their season at State and finished strong, just one week after their Sections meet. 
With family members and fellow teammates cheering them on, the 200 Medley Relay placed 6th. Composed of junior backstroker Kaden Starcznski, sophomore breaststroker Owen Gagne, sophomore butterflyer Walter Royal and senior freestyler John Fort, they touched the pads with a time of 1:39.03. 
With a quick turnaround from the 200 Medley Relay, Royal swam the 200 Freestyle and earned 8th place with a time of 1:47.07. The next event, the 200 Individual Medley, had Stacznski placing 10th with a 2:02.83. Fort ended the first half of swimming with 9th place and a time of 22.22. 
Senior Diver Nick Fogle earned a score of 363.75 after 11 dives and placed 9th in state. 
Royal and Gagne took on the 100 Butterfly after the break. Royal went 53.07, placing 5th and Gagne went 55.89, placing 15th. During the 100 Freestyle, Fort took 16th and Starcznski placed 12th in his 500 Freestyle. 
Royal, Gagne, 8th grader, Eli Fish and Fort won the consolation heat with a time of 1:30.91. Gagne, with one event between the relay and his 100 Breaststroke, still managed to go sub-one minute and make the podium for 8th. 
A successful and fun end to the season, the swimmers and divers that placed top 8 will be invited to the MSHSL All-State Banquet.
Original Article:
The Orono Men's Swim and Dive team has trained tirelessly for the last three months in preparation for their Section Meet since their season started in Dec. But with the continuance of hard work, rest is also a key factor in order to succeed.
"At the end of the season, we start to rest, which we call taper. Not all sports do taper, but with taper, the goal is to rest both mentally and physically and prepare by doing visualization exercises and starts and turns at practice," Coach Ben Hanson said.
With discipline and focus, they competed not only individually, but as a team, and earned second place behind the highly competitive Breck/Blake team. In addition to the overall second-place finish came countless state qualifying times. Both the 200 Medley Relay composed of Kaden Starcznski, Owen Gagne, Walter Royal, and John Fort and the 200 Freestyle Relay with Eli Fish, Riley Jeremiason, Simon Vinton, and Peter Nicklow, placed second and qualified for State.
"The highlight of this meet for me is the clanking of medals around my neck, and the fact that I placed 2nd in the 50 freestyle, right behind future Olympian, Charlie Crosby," senior swimmer, John Fort said.
Fort also placed 4th in his 100 freestyle and will be swimming both of these events at state.
After the strong second-place finish in the first relay, both Royal and E. Fish placed fourth and eighth in the 200 freestyle. A fifth-place finish came for Starcznski in the 200 IM and later placed fourth in the 500 freestyle, qualifying for state in both events. Vinton came in ninth in the 50 freestyle, and, after the break, Royal out touched two other swimmers and became the Section 2A champion in the 100 butterfly with a PR of 52.83.
"The best part of the meet for me was seeing how well all of the other divers did on Thursday. Gideon Fish (7th grade) almost made it to State, which was awesome," senior diver, Nick Fogle said.
Fogle will be diving at State after earning third place in the diving portion.
The back half of the meet stayed just as competitive as the first. E. Fish placed eighth in the 100 backstroke. The 100 breaststroke followed and Gagne reached the wall claiming third, Colin Ziegler in eighth and Eli Hamer, ninth. The meet came to a conclusion with congratulatory hugs, high fives and endless smiles.
"It's the team cheering for one another that is most fun to see as a coach. I love racing, getting best times, and getting state cuts, but when everybody's off their feet and tuned in for relays, I think that's great. My plan is to continue to taper, bond and I really look forward to just seeing our guys compete against the best in the state," Hanson said.
View Comments (2)
About the Contributor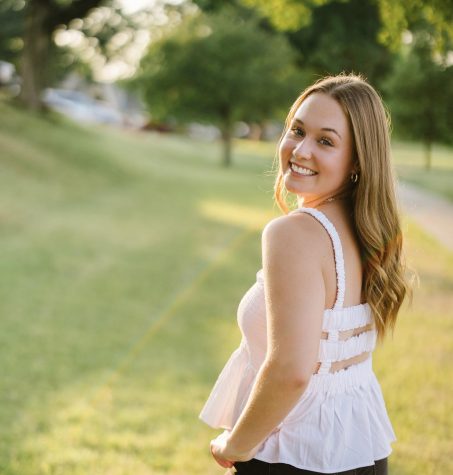 Sydney Govrik, Copy Editor
Hi! I am Sydney Govrik. This is my first year on The Spartan Speaks staff, and I am so excited to be here! I am one of the Copy Editors. In addition to...