Orono Winter Sports are Ready to Freeze the Competition
Although it is sad seeing most of the fall sports seasons coming to an end, that means the beginning of the winter sports season! The winter sports at Orono High School are dance, basketball, hockey, wrestling, alpine and nordic skiing.
Harison Anderson is a senior at OHS, he is also a captain of the Alpine Ski Team. Harrison has been on the varsity boys' team since seventh grade.
"Last year's season went quite well. We didn't quite make it to state as a team. I'm looking forward to seeing the possibility of going to state happen this year," Harrison Anderson said
Coming out to support the Alpine Ski Team is encouraging to those competing and fun for everyone.
"It would be really appreciated if some people came out to watch us in sections, competitions, or something like that. Other than that, if people are interested in joining, we're definitely an open team to all different levels and all different kinds of interests," H. Anderson said.
Summer Beatty is a senior captain of the Orono Dance Team. This is Summer's first year as a captain and her third year on the team.
"Last year's season was great; we just keep getting better and better. Both kick and jazz made it to state and made it to finals and jazz met second and this year, our goal is to get double blue, which is very possible with the team we have," Summer Beatty said.
The Orono Dance Team has a very busy competition schedule that requires the team to practice for many hours each day.
"We have competitions on Nov. 22nd, Nov. 29th, Dec. 6th is a jazz conference, Dec. 10th, Dec. 13th is another kick conference, Dec. 16th is conference champs, Jan. 7th, Jan. 21st, Jan. 28th, Feb. 4th we have sections I hope a lot of people show up to that considering we don't really have a student section. State will be February 17th and 18th," Beatty said.
Celia Dahl is an assistant captain, an OHS Senior and starting goalie for Orono Girls' Hockey.
"Last year's season was super historical for us. It was the first time going to state in program history. We also set a lot of records where we had the most wins in a season. It was just a really important season for us," Celia Dahl said.
OGH plays teams such as Benilde St. Margrets, Blake, Alexandria, Warroad and Mound.
"We got a lot of support last year, which was not something that we were used to, and it was really fun, and we appreciate all the support. And if people are able to come to the games and stuff this year, we'd love that," Dahl said.
Avery Anderson is a senior and a third-year varsity forward with Orono Boys' Hockey.
"Our schedule kicks off with opening night against Northfield on the 29th of November at Morrison Arena. The following 23 games consist of high-level class A and AA opponents including class A Providence (Dec. 30th and Jan. 17th) and Hermantown (Dec. 22nd) as well as class AA Benilde (Feb.7th) and Chaska (Feb. 18th) before the start of sections at the end of February," Avery Anderson said.
The boys got a new coach this season.
"This is a very determined and confident group of individuals, and we would love all the support we can get. There is no reason why this team can't be a state contending team this upcoming season and we invite every single one of you to tag along on our journey through the State of Hockey," A. Anderson said.
Lauren Knudson plays point guard for Orono Girls' Basketball, and she is a senior captain.
"Last year we had some good runs at the end of the season, but we lost our section quarterfinal by one. This year we have a lot of kids coming back but then we also have a lot of young talent, and we all complement each other really well. For our schedule this year we start with eight non-conference games before we actually get into our conference play. The majority of January and February are just all conference games so that will be good for people to come watch," Knudson said.
Riley Snow is a senior captain of Orono Boys' Basketball. The team had a really successful season last year but unfortunately fell short of state.
"We start out with a home game, actually our opening game this season against Hopkins. It's at home on a Saturday, so that's going to be super fun. Then we play Mound right before Christmas and we should destroy them," Riley Snow said.
Last year, the boys lost to Mound, but the team has a positive outlook for this year.
"This year, with the number of seniors we have on our team, we're more of a brotherhood than just like being really regular teammates, so that's going to be awesome. We're going to be really fun to watch this season and I would highly encourage people to come out and watch us," Snow said.
Rachel Pusch has been a captain of Orono Nordic for two years and she is a senior.
"Last year's season was pretty successful. We had three skiers go to state which was amazing, and we had a really solid section team. It was great, we all got along really well. And just had a good time," Pusch said.
Having spectators at the races encourages those competing.
"We usually have races on Thursdays, but it changes. Our races are often at Highland Park. It would be nice to see some support there," Pusch said.
Orono Wrestling starts their season off with a tournament on Dec. 3rd. The first match at home is on Jan. 12th.
All these sports have promising seasons and need the support of their classmates; so, whenever you can, try to support these wonderful teams!
Leave a Comment
About the Contributor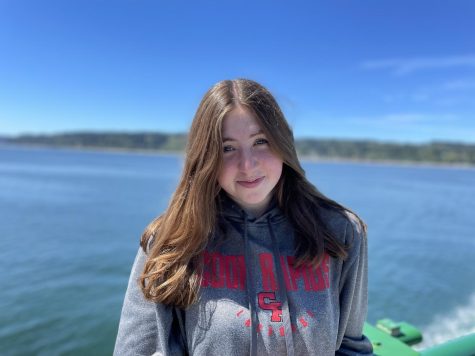 Ella Fellman, Sports Editor
Hi, my name is Ella Fellman. This is my second year with The Spartan Speaks. I ride horses, enjoy taking pictures, spending time with friends and family,...