Rishi Sunak becomes UK prime minister following Liz Truss' resignation
On Sept. 5, 2022, Liz Truss won the Conservative party leadership contest following the resignation of UK Prime Minister Boris Johnson.
As a result of the on-going pandemic, a crumbling healthcare service, inflation and an economic crisis in the UK, Truss entered the position as prime minister with many challenges to overcome.
On Sept. 23, 2022, Truss enacted her first major step as prime minister; a tax cut plan aimed to stimulate the UK's economy. However, the plan failed to be audited and measures to recoup the money deficit were not clear, causing the pound to plummet.
According to CNN, Truss' actions were called "reckless" by leading economists, who also warned that the UK was "likely in a recession."
On Oct. 17, 2022, the newly appointed financial minister, Jeremy Hunt, announced that the measures taken to cut taxes would be redacted in order to restore the pound and the economic markets.
On Oct. 20, 2022, after only 45 days in office, Liz Truss announced that she would resign as prime minister; serving the shortest term in UK history. As protocol, Truss would remain the prime minister until a successor is chosen.
"[Truss' resignation] reflects an overall dissatisfaction in the policy direction of the Conservative party in the UK," OHS History teacher Mr. Lynn said.
On Oct. 24, 2022, former finance minister and Conservative party member Rishi Sunak was chosen to become prime minister. At 42 years of age, Sunak will be the youngest prime minister the UK's had in over 200 years, as well as the UK's first leader of color and of the Hindu faith.
"Rishi Sunak is someone who has been involved in financial decision making for a long time…he also has his advisors who will help him make decisions," OHS Economics teacher Mr. Bohl said.
On Tuesday, 25 Oct. 2022, Sunak became prime minister and the first to be appointed by the newly crowned King Charles III. As the UK's third prime minister in seven weeks, Sunak will face the political division and economic turmoil that led his predecessor to resign.
Leave a Comment
About the Contributor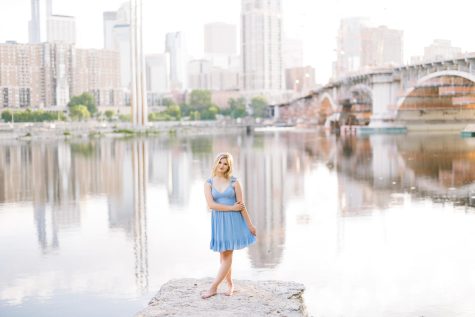 Brooklyn Elsenpeter, Editor in Chief
Hi, my name is Brooklyn Elsenpeter. This is my second year on The Spartan Speaks and I am currently the Editor-in-Chief. My favorite part of writing for...