Orono's Spring Play Leaps Into Action
A murderer is on the loose at Orono High School! Well, in the spring play to be exact. This April, the Orono Drama Club is putting on a production of the play based on Agatha Christie's novel A Murder is Announced which is part of her Ms. Marple detective series. Like most of Christie's work, it is known for its mysterious atmosphere, shifty characters, and great plot twists.
To provide more information on the details of the production, Andrew Van Overbeke, the actor of Edmund Swettenham, has answered some common questions about the play, along with a few reasons as to why students should join the drama club.
"In the small British town of Chipping Cleghorn, an announcement is posted in the local newspaper about a murder that would occur later that day," Van Overbeke said when asked about the plot. "Out of curiosity, a small group of people show up at the time and place of the announced murder, and to their surprise it turns out to be real! Through a frustrated detective's meticulous work of unraveling deep secrets and surprise identities, the true murderer is revealed – and it's not who you think!"
All of the cast members have been given roles that each have their own distinct personalities, and because the actors are on stage, they have to make their characters come alive so that the entire audience can notice their character's quirks too. Because of this important component of staged theater, the drama club has had to practice extensively to nail down their characters. With this though, comes a lot of joy for the actors.
"My favorite part [about being in the play] is my character's role and how I get to play it," Van Overbeke said. "I am a cynical young man who uses sarcasm as much as possible, which leads to hilarious moments and causes everyone to break character almost every time. In addition, I also love the community we've built in theater. We're a great group of people!"
The drama club has faced obstacles when it comes to the making of the play, but are able to overcome them through practice and encouragement from others.
"The biggest difficulty during the production of the show is our ability to focus. Everyone in the cast and crew are good friends, and it's more common than not that everyone breaks out laughing and derailing rehearsals. It's very fun, though!" Van Overbeke said.
Doors open Wednesday, April 28, at 7 pm for their first night of performances.
"I feel like it's all theater without the expected structure of a rehearsal. I mentioned how it's impossible to keep us from having fun – imagine if that's the goal of every meeting!" Van Overbeke said.
Make sure to check out Orono's adaption of A Murder is Announced if you want to be guaranteed a night of mystery and laughs, as well as support the Orono Drama Club. Tickets are available at: https://oronohs.booktix.com/
Performance Dates:
Thursday, April 28th, 7pm
Friday, April 29th, 7 pm
Saturday, April 30th, 2 pm and 7 pm
Leave a Comment
About the Contributor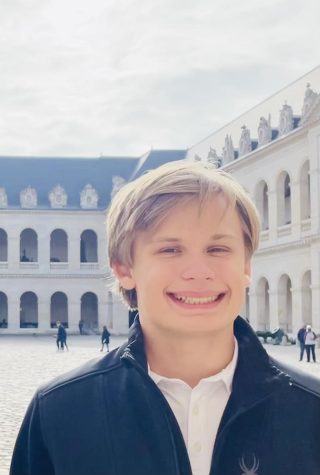 Joseph Mariani, Editor-in-Chief
Hi, my name is Joseph Mariani, I am a senior, and this is my third year writing for The Spartan Speaks. I am excited to report on school events, especially...