Easter Traditions Around the World
Every year in the United States, Easter is thought of in a couple of different ways. Some picture a bunny hiding eggs filled with candy, while others think of church services. Despite its modern interpretations, Easter has been celebrated for quite a long time. The holiday started as the festival of Pascha in the second century under the Christian faith and gradually spread across the world, with each country starting its own interesting traditions. Below are five interesting Easter customs from across the world that will leave you wondering if you might want to change things up this year.
Śmigus-dyngus in Poland
This holiday is a Roman Catholic one celebrated in Poland and in many Polish diasporas across the world. While at first glance it may seem like it is a religious festival, it actually involves one giant water fight. The citizens of Poland go around each Easter Monday with pails of water and use it to splash their friends and neighbors in good fun. For those who want to elevate their Easter egg hunts to an eleven, perhaps adding this element would be a good way to do so.
Semana Santa in Guatemala
In the old town of Antigua, Guatemala, there is a grand celebration commonly known as "Semana Santa," which is celebrated across the Spanish-speaking world. In Antigua, however, they do things a little bit differently. Instead of the usual religious parade full of floats of religious imagery, there is a special addition. Using nothing but sawdust and dyes, local volunteers spend long shifts creating a massive carpet to decorate the street the parade will cross. With vibrant colors and festivities, the custom has gained world-wide recognition, and will likely be fondly recreated each and every year to come.
Påskekrim in Norway
True crime is a genre that has exploded in recent years, and each Easter it is loved devoutly in Norway. Påskekrim is a Norwegian tradition to ingest mystery and crime media during Easter. It is believed to have been started back in the 1920s and continues strongly to this day. Perhaps instead of jelly beans and chocolate bars, maybe all the family needs this Easter season is to watch a crime tv show, like Hulu's Only Murders in the Building, or read some Agatha Christie.
Kite Flying in Bermuda
On the tropical island with palm trees and warm sand beaches, the people of this British territory like to spend their time outdoors. They love to fly beautifully decorated kites in large numbers. They tend to be circular in shape and filled with a myriad of colors. It is also a very popular tradition to make a dessert known as hot cross buns, which are spiced pastries filled with fruit. Either of these traditions would make a fun addition to any Easter get-together.
Easter Witches in Finland
If you happen to be in Finland for Easter one year, and you have a group of children dressed as witches and warlocks come to your door, do not panic; it is normal there. Similar to the trick-or-treating done on Halloween, Finnish children go door-to-door asking their neighbors for candy dressed as witches. They do not say trick-or-treat though; instead they say "I wave a twig for a fresh and healthy year ahead; a twig for you, a treat for me!" The tradition was originally meant to ward off evil spirits, but it now remains a fun way for kids to get their spring candy-fix.
Leave a Comment
About the Contributor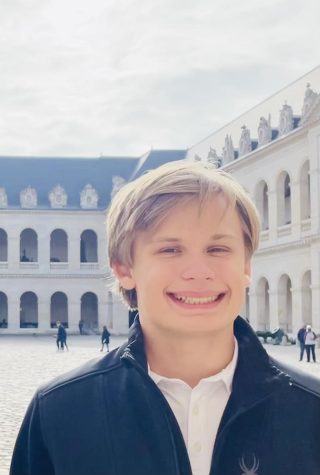 Joseph Mariani, Editor-in-Chief
Hi, my name is Joseph Mariani, I am a senior, and this is my third year writing for The Spartan Speaks. I am excited to report on school events, especially...