Minneapolis Institute of Art: Enriching the Lives of Students
The Minneapolis Institute of Art (Mia), opened in 1915, is the largest museum in Minneapolis and one of the largest art museums in the United States. Although the museum contains vast collections of art from prestigious artists from over six continents, the museum is free to the general public; aside from certain exhibitions.
"The Mia has a very broad range of art," Orono High School art teacher Jayne Hudgins said.
The Minneapolis Institute of Art houses over 90,000 pieces of art and attracts more than a half million visitors each year; yet viewers pay no cost to enter the museum's large general exhibits. The artwork ranges from over 5000 years, giving viewers an opportunity to learn about and examine historic pieces of work.
The Mia's vast amount of art includes departments such as the Department of the Arts of Global Africa, Department of Global Contemporary Art, Department of Asian Art, Department of European Art and the Department of the Arts of the Americas. Artwork in these departments ranging from sculptures, paintings, period rooms, historic objects, visual presentations, and much more.
"Mia's mission is to enrich the community by collecting, preserving, and making accessible outstanding works of art from the world's diverse cultures," spokesperson for the Minneapolis Institute of Art said.
As art evolves over time, so do the exhibits. The Mia rotates their exhibits frequently in order to bring new experiences to the visitors of the museum. While some traveling exhibits do require a ticket, the Mia values accessibility to art for everyone; ensuring that even the limited time exhibits are not costly.
The Mia also aims to encourage families and children to experience art in various ways, such as their Creativity Academy, which is a fourth-grade program that immerses students in the various art forms. Additionally, the Mia hosts school field trips and a monthly family day.
"Teaching young students about art and art history enriches and expands their understanding of different cultures and invites them to consider new perspectives and ideas," spokesperson for the Minneapolis Institute of Art said.
With our ever-progressing society, along with advancing technology, many feel that art is losing its place in society; while others strive to ensure that art remains a prominent aspect of American society. The importance of art is subjective but the impact of art is universal.
"I hope that art can be integrated more fully into our society for the benefit of both artists and consumers of art. Additionally, I hope that barriers to art [such as] high prices, lack of diversity, and lack of accessibility/accommodations will be lowered so that everyone is able to experience the benefits of art," Jefferson High School senior Olivia Woebke said.
For many, inclusion of art in education and in the workplace allows for more room for creativity and inspiration. The many forms of art can also be used as an outlet for emotion and personal expression; which has proven to be a valuable tool for personal and worldly connections.
"I hope that there's more of an emphasis placed on art throughout all levels of education and the workplace because art has the ability to convey what words cannot and bring happiness to people," Edina High School sophomore Alexandra Meierant said.
For over 100 years, the Minneapolis Institute of Art has brought an abundance of art to Minneapolis, initiating the Twin Cities in becoming a center for artistic exploration and creating a place for artists and art lovers to experience thousands of cultures and time periods; all within one building.
Leave a Comment
About the Contributor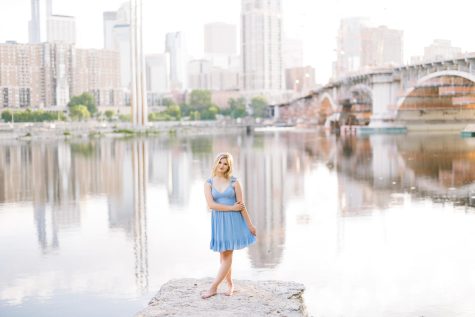 Brooklyn Elsenpeter, Editor in Chief
Hi, my name is Brooklyn Elsenpeter. This is my second year on The Spartan Speaks and I am currently the Editor-in-Chief. My favorite part of writing for...