Black Friday: Online vs. In-Person Shopping
Black Friday, the day following Thanksgiving, is a day in which many stores have "one day only" sales that essentially kick off the Christmas shopping season. In 2020, due to the pandemic, many of the Black Friday sales were online; but this year in-person deals and shopping are expected to return as it was pre-pandemic.
In recent years, Target Corporation, among many other retail stores, has expanded its online shopping platforms. Online shopping has led to a decline in in-person shopping; therefore, decreasing the need for shoppers to rush out for the Black Friday Deals.
"Black Friday is going to have a lot more online shoppers and less staffing. [Online Shopping] it's going to impact us and affect us in a good way because it gives us a chance to reach our full potential," Medina Target T-2223 Store Director Diraar Jefferson said.
The economic prosperity that online platforms have given stores has led to a major shift in how corporations are being conducted.
"A lot of the old traditional stores are closing down and the economy is becoming more electronic. [Online shopping] only affects the traditional big stores, like Sears; these stores are being crushed by online stores," Orono High School business teacher Lisa O'Halloran said.
With the current supply shortages, many stores may not have a large number of certain items, making online shopping seem like a logical choice when deciding whether or not to shop in-person on Black Friday.
"With the logistics problems now, you could go to a store and what you're looking for is not there; but online, you know it's there. If you go to a store and the items are not there, you've wasted a trip; and I think this year, a lot of stores will have low stock-which will make online shopping look like a better option," O'Halloran said.
With regards to the probability of stocked shelves, Jefferson noted that there is a chance of items not being in the stores, but that the warehouses, where online orders are processed, may have a larger quantity of goods. Although Jefferson also noted that it's about a "50/50 chance" between getting items faster in stores vs. online.
The much anticipated day after Thanksgiving has also been affected as a result of the pandemic. Many shoppers felt last year that it was easier to shop from home and this concept may carry into the future.
"I prefer Cyber Monday because you don't have the stress of going to the packed stores. Online shopping is definitely better," junior Katelyn Fix said.
The ease of shopping from home has grown tremendously in the past few years, narrowing the desire to rush out for the holiday deals.
"I think online shopping causes more people to stay home. I know a lot of people still do in-person Black Friday shopping, but there are also a lot of people, like me who would rather stay home and shop," junior Jenna Olson said.
The convenience of online shopping has resulted in a decrease in in-person turn-out on Black Friday. It's seemingly expected that each year, the percentage of in-person to online shopping will grow further apart; with online shopping becoming increasingly popular.
Leave a Comment
About the Contributor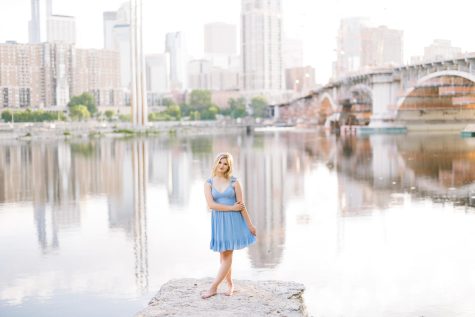 Brooklyn Elsenpeter, Editor in Chief
Hi, my name is Brooklyn Elsenpeter. This is my second year on The Spartan Speaks and I am currently the Editor-in-Chief. My favorite part of writing for...