Collide Theater: Class of '85
The Collide Theatrical Dance Company in the Twin Cities produces a variety of shows each year. This spring, Collide Theater reset their show Class of '85, which originally debuted in 2015.
The Collide Theatrical Dance Company was founded in 2013, by Regina Peluso. Peluso has created over 14 original dance theater productions for Collide. Collide is a non-profit organization, with its main goal of telling theatrical stories through music and dance.
Collide's most recent production, Class of '85, combines multiple styles of dance and a variety of musical genres. The show's fun and exciting nature embodies the theater's goal of storytelling to their audiences'.
"The storyline of our show is inspired by the classic 1980's movie, The Breakfast Club, but we have put our own special twist on it," Class of '85 cast member Renee Guittar said.
Class of '85 is a portrayal of a high school in 1985, where the individuality of eight seniors is put to the test when they are instructed to write an essay about themselves while in detention. Each of the character's essays illuminates who they truly are, and who they have been pretending to be.
"[Class of '85 is about] 8 students that follow the typical high school stereotypes as The Princess, The Jock, The Nerd, The Cheerleader, The Rebel etc… in the class of 1985, [they] are forced to spend their saturday in detention. During this day, they get to know each other and learn why everyone acts the way they do and hide behind an idea of who they think they are" Artistic Director Regina Peluso said.
The relatability of the show's theme is attributed to the stereotypes that follow people and the internal struggles that everyone faces. The show's detailed and thoughtful choreography is a key factor of the storytelling and of the emotional connection that the show conveys to the audience.
"Class of '85 is a fusion of jazz, ballet, tap, hiphop, and modern dance," Guittar said.
The various forms of dance and music, combined, create a diverse and interactive performance that is filled with surprises. The multiple features within Class of '85, makes this show have something for everyone.
"Everyone has a story. It's easy to form a bias on another person….but we never really know what's behind someone's choices to act the way they do," Peluso said.
The central theme of the production is conveyed through various art forms, but the message is clear to the audience. These shared experiences throughout life can shape individuals into their true selves.
" [In high school] we all seem to follow a similar path of figuring out our path and where we fit in as individuals," one audience member said.
Class of '85 leaves audience members left to reflect and ponder how stereotypes are incorporated into society, in ways that may be unrecognizable; with the hope that society will shift away from stereotypes and into a more connected and understanding world.
"I hope this show leaves audiences with a lot of good feelings…and a story that hopefully each person can relate to in some capacity," Class of '85 cast member Jarod Boltjes said.
The Collide Theatrical Dance Company's production of Class of '85, is a portrayal of high school seniors from various social standings within their high school, who learn about the struggles that each person faces, and the front that each of them put on to get through the day. The multifaceted qualities of the show provide viewers with a diverse range of dance and musical entertainment, all of which is rooted in the deeper question of "who am I?"
Leave a Comment
About the Contributor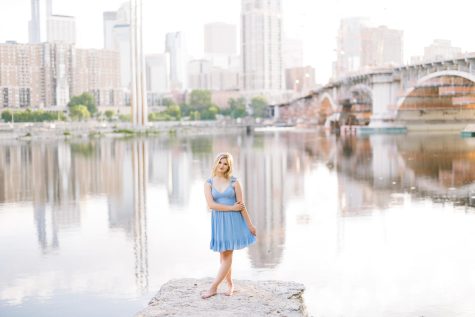 Brooklyn Elsenpeter, Editor in Chief
Hi, my name is Brooklyn Elsenpeter. This is my second year on The Spartan Speaks and I am currently the Editor-in-Chief. My favorite part of writing for...