Anticipation Surrounding This Year's Prom Garners Attention
Orono High School's prom is definitely going to be a different experience compared to the following years. This junior-senior prom is set to take place on May 13th.
The prom tickets cost seventy-five dollars per person and one hundred and fifty for a pair or a couple. As of April 18th, the tickets are sold out, contact Grace Nohner for more information on how to get on the waiting list.
The Grand March will take place at OHS, beginning at 5:30 pm, followed by dinner and the dance at Edinburgh golf course in Brooklyn Park, from 7:00 to 10:30. The theme of this year's prom is "Enchanted Forest", which is quite a contrast compared to previous years.
That isn't the only difference between this year's prom and that of previous years. According to Teen Vogue, Prom 2022 is predicted to be one of the best yet, considering it is the first real prom in the past two years without significant covid restrictions.
"It's going to be a combination of last year and the year prior, we are getting back to normal, which is really nice," OHS English teacher and Prom coordinator Grace Nohner said.
Last year's prom was only available for seniors and no outside guests were able to attend. This year, both juniors and seniors can attend, and guests from other schools are welcome. Attendees were only allowed to be on the dance floor for all of 15 minutes last year.
"We are going to have lawn games, bingo, trivia, dinner, a photographer, and the dance," OHS junior Mackenzie Callan and member of the prom committee said.
"I'm excited to be able to attend prom, I'm glad juniors are able to attend this year. It makes this year feel just a bit more normal," OHS junior Ella Fellman said.
Prom is an important event for many high school students. Some describe it as one of their favorite high school memories. Even if dances weren't something they particularly enjoyed in the past, prom is a different experience for all those who attend.
Julie Tinson, the author of "Inter-cultural adolescent ritual practice", explains how prom is an important cultural practice of adolescents in the US and UK. Prom is similar to a right of passage and a way for classmates, especially seniors, to enjoy their last few times together before leaving high school.
According to the article, "The cultural importance of dances", written by Jessica Browder, attending prom is what makes you comfortable regardless of gender norms. It is perfectly fine if you don't have a date, attending solo or with friends is still a great experience and what many at OHS plan to do. Even if you don't like dances, go for the food, the people, or the other activities; prom isn't just a dance.
Formal attire plays a big role in the whole grand scheme of things when it comes to prom.
According to Nichole Zlatunich, writer on the Sociological Inquiry, adolescent girls are often influenced by ads on social media and in magazines. This is a great way to discover a store or online site to shop for prom dresses.
"If you are in need of a dress on short notice I recommend in-store shopping. Some examples would be David's Bridal, Macy's, Posh Love, and any other bridal shops in your area. However, if you have extra time I recommend using an online site, as there is a greater variety of options," OHS graduate Audrey Ketcham said.
Remember, prom isn't just a dance. Don't forget to go shopping as soon as possible, as prom is only a few weeks away. Take a break from the stress of life and go enjoy the high school experience at OHS Prom 2022.
Leave a Comment
About the Contributor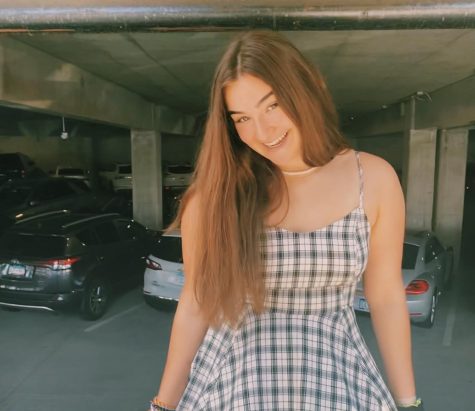 Lucy Ketcham, Visuals and Social Media Editor
Hi, my name is Lucy Ketcham this is my third year with The Spartan Speaks. I play volleyball and I enjoy spending my free time with friends and family....