Making a Difference at OHS One Wish at a Time
The OHS senate has recently partnered with the Make a Wish Foundation in order to raise money for their organization. Juniors Jane Guidera and Jack Randolph have taken the initiative in promoting the cause at Orono. The senate has set a goal to raise $6500 for the organization through many fun activities set up at the school this week and last.
The Make a Wish Foundation was founded in 1980. The first wish granted was for Chris Greicius, a seven year old boy who had recently been diagnosed with leukemia. Chris had a dream of being a police officer and his mother, Linda, was willing to do anything to make his dream a reality before cancer decided his fate.
Chris was helicoptered from the hospital to the police station headquarters in Scottsdale, Arizona where he was given the chance to earn his "wings" and qualify to be a motorcycle officer. After the officers presented Chris with his wings, he was later given the funeral service of a police officer when he passed away.
The wives of the DPS officers who had helped Chris with his wish were so inspired by this they came up with the idea for the foundation. In November of 1980 it received official status as a nonprofit and earned its first $2000 necessary to grant a wish. As of 2016, 270,000 kids have been granted a wish from the Make a Wish Foundation. 14,800 wishes were granted last year alone, which is about one child being granted a wish every 35 minutes.
"Jack Randolph and myself chose Make a Wish when we were at Portland, Oregon this June for the National Association for Student Councils national conference. They were promoting their in-school fundraising program, and it seemed to be a great fit for Orono," junior Jane Guidera said.
OHS has set a goal to raise $6500 to support Morgan's wish. Morgan is a 14-year-old girl from Waconia who has a wish to travel to Hawaii with her family. Senate is getting the whole school involved with this fundraiser by encouraging teachers to provide an incentive for them to bring in money such as exemption from tests, homework passes and Chipotle at lunch.
Senate students also sold stars at lunch this week, and students who purchased one were entered into a drawing for Caribou gift cards. A silent auction is being held in the cafeteria during spartan hour on Wednesday, and the Wish Dance will be held on Friday to raise even more money for Morgan's wish.
About the Photographer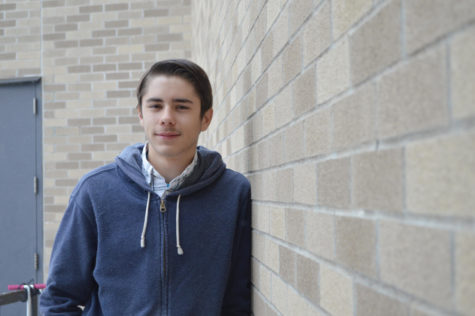 Andrew Charrier, Staff Illustrator
Andrew Charrier is a staff illustrator for the Spartans Speaks.