Football team comes back with confidence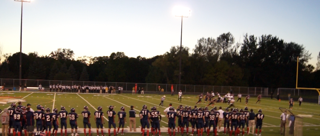 With the 2012 football season underway, the formerly disappointed team has high hopes for the outcome of this year.
"We are stronger than last year because we trained harder, so expect us to go far," said senior captain Nick Adzick.
Last season, the team had a record of 1 and 6 in conference and was visibly shaken from that ordeal. Of all the people interviewed, there was a consensus on one thing: This year will be different.
"The captains started training in June instead of late August with the team, which made a huge difference. It also shows how much the level of commitment has gone up with the guys from this year to last year," said head coach Jeff Weiland, who also teaches social studies at Orono High School. That was also evident if one went to the weight room any day of the summer. Someone from the football team was almost always there working out and preparing.
The preparation is showing as the Spartns beat Holy Family on the road with a final score of 24 to 16.
"Holy Family is usually one of our tougher opponents," said senior Zach Mahan.
Not only has the varsity team been doing big things, the freshman team has been undefeated thus far into the season. "We have been playing very well together. We all get along." said a freshman team member Blake Leischow. The good news is that there is young talent.
"The number of juniors on the team is very small compared to previous years. We are graduating many more seniors than we have juniors to replace," said Weiland.
The JV team has had a rough go of the first part of the season at 1-4 according to ihigh.com. Their only win came against Dassel Cokato.
Hard work and commitment seem to be the name of the game for the Varsity boys this year. As Adzick said, "A two and three record doesn't really show our full potential, [the team] has a better work ethic, better leadership and unity which adds up to more potential than last year."
Although the Varsity squad has lost three of their seven games have kept them close. Two games have come down to two or fewer points, those two games being the games against Litchfield and Delano according to mnfootballhub.
"They were extremely close games and it shows just how close we are to being one of the top in our conference. In the last few weeks we have come far as a team and I have confidence we will be successful in play-offs," said senior Jake Anderson.
The only game that seemed to resemble the blowout losses of last years team was the Hutchinson game, in which the Spartans were defeated 41 to 14. "The losses of Andrew Klanke to his ACL and Garey Symington to an injured foot have really been felt in those big loss games," said senior Zach Mahan.
Not only have the seniors been coming through, but the juniors of the varsity squad have been pulling their weight around as well. "They've all been playing hard, juniors and seniors, but the juniors that have really come through for us this season, Ben Turnham at quarterback and Sam Challgren," said Adzick.
All seniors on the team had one common theme to conclude our interviews, Nick Adzick put it best though, "Keep cheering for us because we're going to the dome."
Woody Hust is the Sports Editor for The Spartan Speaks
[email protected]