New music providing an escape from the Pandemic and politics
As the stresses of 2020 build upon each other, music continues to provide a boost in mood and an escape from everyday stress. Popular artists, Sam Smith and Ariana Grande, both recently released new albums. To get a glimpse of the general vibe of the new releases, a few students from Orono High School provide their overall opinions of the music, some favorite songs from the album, and how this music has helped them keep motivated.
Sam Smith's music is the ultimate portrayal of the complications of human emotion that many can often relate and apply to their personal lives. Some artists similar to Sam Smith would be: Charlie Puth, Shawn Mendes, John Legend, and Adele. If you enjoy these listed musicians, it is likely that Smith's new album is up your alley.
The album was intended to be released in the summer and originally called 'To Die For'. It was recently released on October 30th and titled 'Love Goes'. The album displays his typical slow style and a recurrent theme of heartbreak and genuine love.
Regarding Sam Smith's new work, Senior Bridget Carlson says: "I love the new Sam Smith album! He is one of my favorite singers so I got really excited when he released this album. With the election going on and Covid-19 making our lives harder, it was so nice to be excited about something new. My favorite songs in this album are: Kids Again, So Serious, and Another One." Carlson said.
"
With the election going on and Covid-19 making our lives harder, it was so nice to be excited about something new."
— Bridget Carlson
Ariana Grande's album, Positions, offers Grande's usual variety of some upbeat and slower songs with a recurring theme of women empowerment and relationships. This album also features collaborations with artists, The Weeknd, Doja Cat, and Ty Dolla $ign.
Senior Grace Morowczynski shares her opinion of the recent Ariana Grande album, "It's a pretty good album and I really like the vibe. I enjoy listening to it as I study and drive to school. My favorites from the album are 34+35, motive, and love language" Morowczynski said.
These recent albums possess varying themes and tones but both offer escapes from the pressures of life, good sing-alongs, and study music. As the anxiety from the Coronavirus and presidential election lingers, remember to take time for a feel-good activity and possibly give these new albums a listen!
About the Contributor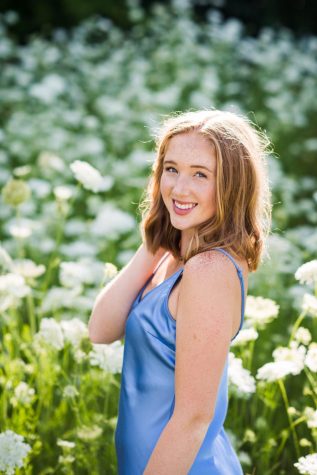 Cate Challgren, Features Editor
Hello! My name is Cate Challgren. I just recently joined The Spartan Speaks Newspaper this year as Features Editor! I am super excited to have the opportunity...