Soup Time warms up Friday's hallways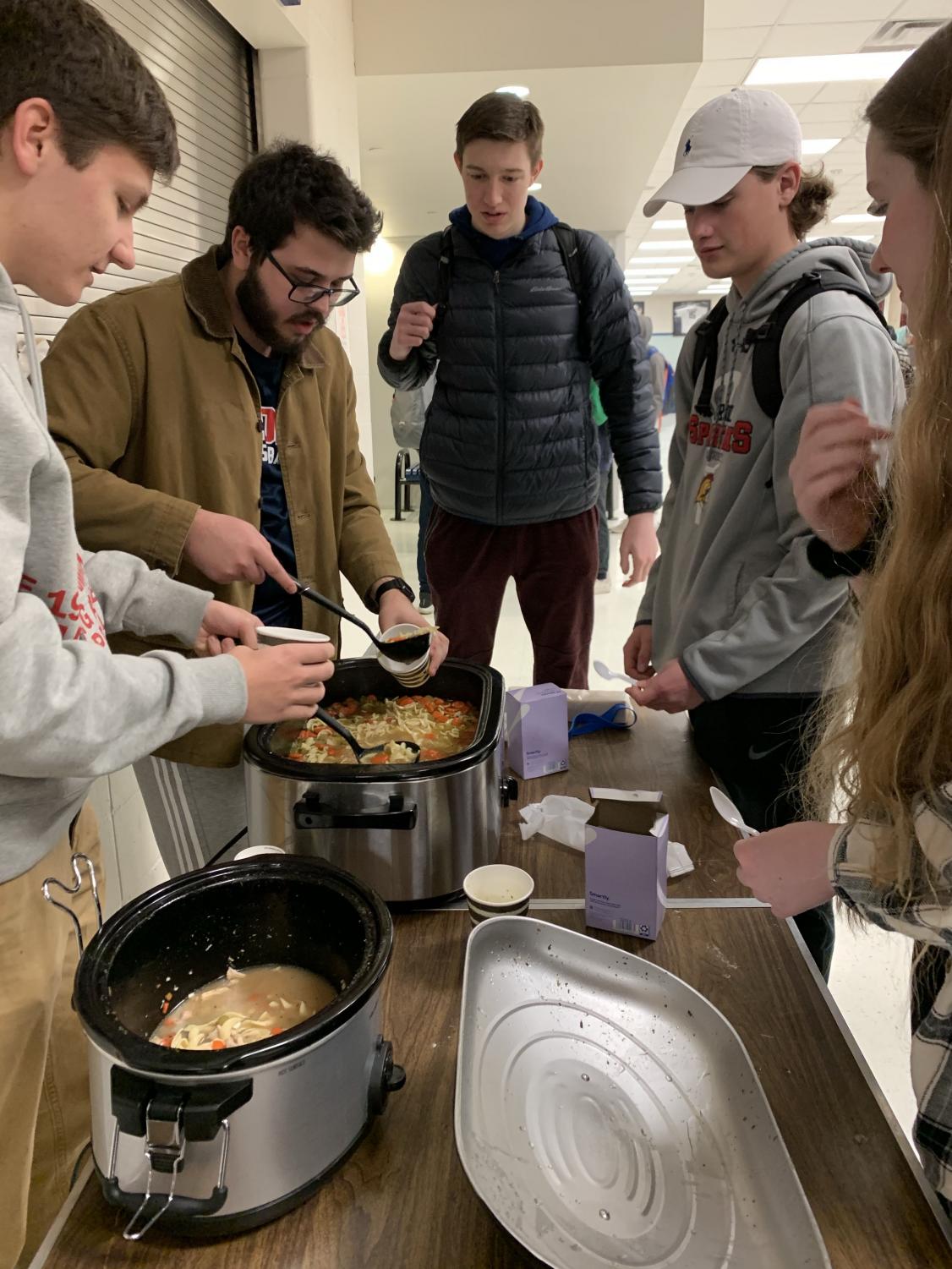 Gracie Hornbaker
Features Editor
Through the winter frost, one new thing that has been warming up Orono High School students: soup. Orono junior Kaleb McMullen has taken on the task of making homemade soup to bring to school every Friday. He sets up shop in the mezzanine and passes out soup to everyone who lines up.
"
It started as a project for my WHAP class. We had to bring in homemade food using ingredients from the Colombian exchange. I decided that I was going to make Creamy Potato Chowder, and after bringing it in so many people were shocked at just how good it was. I really enjoyed seeing people enjoy my food, so I thought that I might as well try it again."
— Kaleb McMullen
McMullen does not ask anything in return from students. There is no fee for the soup, but instead, McMullen asks that students consider donating to the club. The donations are not for McMullen's benefit. All donations go back into buying ingredients and supplies for the next week's soup time.
Soup time has only been going on for a short time, but it is already a huge success. The lines to get soup are long, yet the soup is so good that students think it is worth the wait. McMullen stays to serve the soup until he runs out.
"It was really busy and there was a long line. We had to wait for like 10 minutes, but the soup was so good that it was worth it," junior Lily Maas said.
Soup time has just taken off and there is no end in sight for McMullen. He hopes that students continue to enjoy his soup so that he can keep providing a healthy meal to students during Friday snack break. So far, he has had to buy bigger pots and carrying containers. Even though the money has come out of his own pocket, he is hopeful that the club will be able to fully run off of donations in the future.
"I already have grown soup time quite a bit. With the money from last week's soup, I was able to purchase a larger stockpot and another giant roaster pot just for soup. I really jumped in my production, and if it continues to go as well as it has been there will only be more jumps in quantity of soup," McMullen said.
McMullen makes the soup based on what students want. He accepts votes and suggestions through any way that people can reach him. When it comes to Thursday night, he makes the type of soup that most people have voted for.
"I was bombarded with feedback, recommendations, and requests for types of soup. I feel as though having such good reactions really makes Orono Soup Time what it is," McMullen said.
Soup time is a very original and unique idea that has captivated students. Walking down the halls, there is always talk of McMullen's soup. From people asking what the event is all about, to people debating about what soup should come next. Without a doubt, McMullen is bringing some warmth to cold winter days here in Orono.
About the Contributor
Gracie Hornbaker, Features Editor
Hi! I am Gracie Hornbaker, and I am this year's Features Editor. This is my second year being involved with the Spartan Speaks. I love being apart of the...