Veterans Across the Country Take the Slopes of Snowmass
Jagur Justen
Opinions Editor
Every year in Snowmass, Colorado, veterans from all over the U.S. have the chance to take part in the Winter Sports Clinic. Veteranas had the opportunity to cross country ski, scuba dive, snowboard, downhill ski and more, according to the National Disabled Veterans Winter Sports Clinic. This year it took place March 31 through April 5.
In 1987, the Department of Veterans Affairs established the Winter Sports Clinic in Colorado, because there was a group of twenty veterans interested in learning to ski. The equipment needed to be adapted to make it easier for them, according to the Department of Veterans Affairs. Over the years, veterans have seen this as a chance to go out and have an experience they thought was just a dream.  This year over 400 veterans were able to enjoy this experience.
Veteran David Kolb's experience was more than just learning to ski, it allowed him to explore boundaries and discover his capabilities of doing much more in his everyday life, according to Kolb.
"Mostly, primary thing, just being pushed to do things, being so scheduled and showed what I could do if I  just go out and do it," Kolb said.
Veterans are put into teams once they arrive.  They "compete" throughout the week experiencing the different activities staying overnight at the resort in Snowmass.  Team coaches are recreational therapists. Recreational therapy is a type of treatment that fits an individual's needs by doing certain activities, according to the Minneapolis VA Health Care System.
Recreational therapist Kristen Powell was the coach for the Minneapolis team. The reason she was inclined to join the veterans and take the role as the coach was because there were four new veterans that all had different needs. This may include them from suffering from traumatic brain injuries, post-traumatic stress disorder, and physical disabilities.
"They needed someone to be a pillar in a sense of someone who can be there for them," Powell said.
Veterans have the opportunity every year to apply to be a part of the clinic. The applicant needs to meet certain therapy requirements and health requirements to be invited to compete. Veteran Joe Oppold has been going to the clinic for the past 20 years. He said his experience at the clinic is "out of this world."
"I like to ski. I knew this could be an opportunity so I can run again…Skiing is a form of running," Oppold said.
On the last day, the clinic holds a ceremony where veterans are awarded for participating in the events provided. Also there is a reward for the best coach, which Powell had earned after this trip.
There are other options for veterans to do adapted sports. In Milwaukee, veterans in the spinal cord injury unit,  can take part in sled hockey, according to recreational therapist Joyce Casey and graduate student Shaunee Mulhollon. Also, like the Winter Sports Clinic, there is a Summer Sports Clinic. This event typically happens the last week of September in San Diego,CA and has activities including kayaking, surfing, pickle ball and more. There is also the popular TEE tournament which takes place every September in Iowa.
"That's a cool thing to do. Helps veterans to be active or get involved in something they haven't done in the past," biology teacher Jeremy Buch said.
The veterans sports clinics are opportunities for veterans to experience new things they may not otherwise try or discover they are still able to do things they may have thought no longer possible.
About the Contributor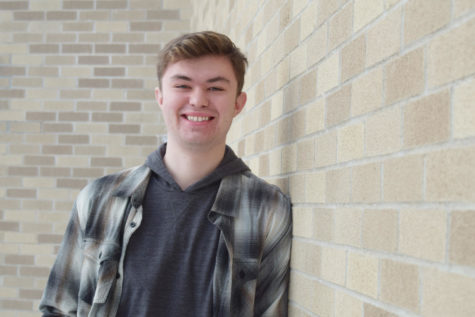 Jagur Justen, Opinions Editor
Hi, I'm Jagur Justen. I am an opinions editor for the Spartan Speaks. I am part of the backstage crew for theater productions. I am not a big fan of writing,...