Orono Activity Center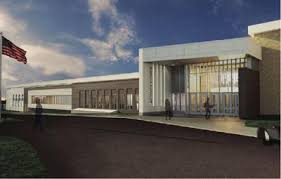 The Orono Activity Center will be opening February 3, 2019. Memberships will be available to residents along with non-residents. Annual members have use of upper walking track, lower running track, fitness center, Orono pool, basketball courts, and community locker rooms.
The memberships fees will run along a annual basis. Prices differ between the age of member and if the member is a resident of Orono. Daily fees will also be present within the new facility. For residents five dollars and non residents the cost will be $20 a day.
The $27 million edition will have an everlasting impact on the Orono school district. The intent of the facility is to serve as a community fitness center, similar to LifeTime.
"The activity center will be beneficial for sports, and the price to workout there is really cheap which is a positive aspect for Orono athletes," senior Katherine Gilster said.
With the membership, members will also be able to utilize facilities other than just the activity center itself. For example the pool located in the Link between the intermediate and elementary schools.
The facility will be open from 6am to 10pm on weekdays, with the idea for members to work out before and after school hours. Hours will differ to 8 a.m.-5 p.m. on Saturdays and Sundays.
"I think the activity center is a good edition to the community, but I will continue to workout at LifeTime, because I'm comfortable there and know my way around," senior Madison Kelderman said.
With the included rates, members will have access to fitness classes as a further addition to stay in shape.
The annual fees are listed below.
On February 2nd, 2019, the new Orono Activity Center will finally be showcased to people all over the community. The two year build has finally come to an end.
According to the Orono Public Schools, the center will include five basketball courts with the option to set up volleyball, pickleball or tennis courts, baseball/softball and golf cages. A 3,400-square-foot weight room and a 2,000-square-foot cardio room is also located in the building. As well,, it has a running track on the lower level and a walking track on the upper level.
This 27 million dollar center, according to the Orono School Board, has anticipated a lot of questions from all types of people. However, aerial drone footage was setup by Mitch Cook and Midwest Bank through the Orono Foundation. This footage was taken monthly in hopes to involve the community or anyone else with the construction process.
"I think the videos were to show people that are interested the progress that it is making. If you take the first video and compare it to the last you can see the development of the area and land," athletic director Bucky Mieras said. "Honestly it keeps the phone calls away because people can see the updates."
The facility also offers a membership to all community members including students.
"Because of extracurriculars I will become a member. I am very excited to begin!" senior Abbie Mcgrann said.
This February, the grand opening of the Orono Activity Center will be held. A place for members to stay active, socialize, practice/compete, take classes, and many more.
According to Lake Pioneer, the new facility will include five new sports courts, an upper and lower track, weight room, fitness center, classrooms, concession, athletic locker rooms, and community locker rooms.
With all of these new amenities, athletes in all sports will find benefit in the activity center. From the removable turf for grass related sports, to the automatic basketball hoops and volleyball nets, many teams will gain practice hours and utilities to maximize their chemistry and strength.
"Even though it is senior year, Track and Field will benefit immensely from the new activities center. During early spring training there, we are often running through snow or on top of ice, so having the ability to run inside where our muscles can stay warm will give us a stronger start than we have ever had to any season," junior Nick Ruhland said.
Of course there are other options in the facility for non-athletes, adults, alumni, etc. There are pool hours available as well at the batting cages not located inside of the center that give another benefit of becoming a member. A huge update are not only the weight rooms and fitness center, but the classes that are now being provided with them.
17 classes will be an addition to the Activities Center that provide a variety of different levels and skills. The classes range from yoga, pilates, stretching, and basics to HIIT, cardio, and circuit training.
There are no specific times or official calendars published that display when and where in the building the classes will be, but registration details, as well as class details, are avaible at www.oronocommunidtyed.com. But relating to time, the proposed hours for the facility are 6 a.m.-10 p.m. Monday-Friday, and 8 a.m.-5 p.pm on Saturdays and Sundays.
"I can't wait to see the impact this Activity Center has on our community as a whole. I think people will overall be happier and healthier which is something not everyone has, so we are very lucky," sophomore Finn Rohrer said.