Christian Babo takes on Spanish soccer league
Hang on for a minute...we're trying to find some more stories you might like.
Senior Christian Babo has just returned from an amazing trip in Spain, after being invited to play on an elite prospect soccer team. He was evaluated with a team from Chicago, and was one of two Americans sent over to play.
Babo led the OHS boys soccer team to a tie for third place in this years state tournament. Babo also finished his senior season with a total of 35 points.
Babo has been playing soccer since he was 9 years old, and this year he got the chance to travel to Spain to play for an elite soccer club. The team is a prospect team for Real Madrid. The academy was based in Valladolid, Spain, about two hours Northwest of Madrid.
During his trip to Spain, Babo stayed in the team housing for about two weeks as he played with them. After the games finished, he and his family stayed in Madrid for about a week and were able to encounter some of the culture and history of Spain.
"The trip itself was really eye opening. Not just because they play soccer a totally different way here but it is neat to see and experience a new culture," Babo said.
Babo played a total of threegames with the Real International Academy, and had two assists for a total of two points in those three games.
Real International Academy is the prospect team for Real Madrid which means many of the players that play for the academy could have a very high chance at playing professional soccer. In Spain the pace is much faster and everything is more technical than here in the United States. The team is a Division 2 team which means that they are one league below the professional soccer league.
"The pace is much faster and it is a lot of constant movement and 1-2 touches and completely different than high school soccer here in the States," Babo said.
"
The pace is much faster and it is a lot of constant movement and 1-2 touches and completely different than high school soccer here in the States"
— senior Christian Babo
Babo said that it is a totally different sport over in Spain. All of the players are much smaller and faster, and the teams in Spain really focus on ball movement instead of individual skill. When asked if anyone else had gone with him from Orono, he said that there was only one other person from the United States.
Though he loved playing over in Spain and experiencing all of the new cultural aspects of it, he said that his favorite memory was, not of playing in Spain, but of winning the 2015 state championship for Orono.
"My all-time favorite soccer memory would have to be winning the State Championship in 2015," Babo said.
In his time at OHS, Babo has made a huge impact on the soccer team. Many of the younger students on the team are always looking up to him for advice on how to be a great soccer player.
"He is special because you knew at any point that you could rely on him to perform and help us win. He is the best player I've played with," junior Alex Danielson said.
However, Babo does not plan on stopping his soccer career any time soon. His plan after high school is to go to Nepal and develop more as an athlete and one day become a professional soccer player.

About the Writer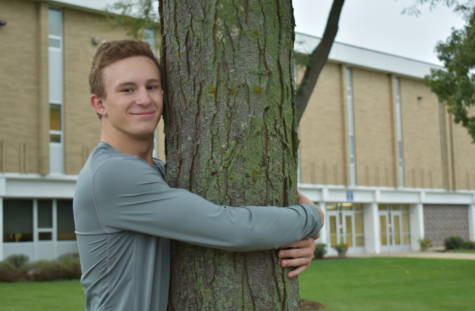 Sam Antonenko, Staff Reporter
Hi, I'm Sam Antonenko, a Sports Editor for The Spartan Speaks. I am a Senior here at Orono HS and this is my second year working for the newspaper. I...