Halloween in the eyes of children
The interactions of the past year with COVID-19 and Halloween limited many people to their full view and potential at trick or treating, night games, and late night scary movies. Sources are saying that still this year COVID-19 is restricting people from enjoying the full experience of Halloween.
"That means while the general tradition is deemed safe, it's important for costume-wearers to travel in small groups to go house to house and to avoid boxed-in candy counting/trading scenarios or trunk-or-treat gatherings in a central location." Scott Gleason from USA Today said.
College students are limited to going out and enjoying time with friends and family even. Halloween isn't always known just for trick or treating, and night games. Some use it to come together with family and spend time together.
"I didn't do anything last year. I stayed home and watched movies because I was not allowed to go out. Although this year, I am for sure going out, I am dressing up as tinkerbell. I am also spending it with my friends." College athlete Mia Huberty said.
The pandemic will continue to limit our everyday lifestyle, our big events, and some holidays. Studies have been done, and shown that the more people that are going in groups of larger people and doing a lot of activities with large crowds, tend to be the negative outcome for results with COVID-19.
"The principles of the pandemic really do continue to hold. Outdoor gatherings are better than indoor gatherings, ventilation is important, masking remains helpful." Stephen Kissler from USA Today said.
All of the children don't always understand the factors to the COVID-19 virus. They are taught to keep space and to wear a mask. Will this follow up during halloween? Parents are not always in action to make sure their children are wearing their masks and staying a respectful distance from others.
"This year I was hoping to celebrate halloween with my friends and family going around my neighborhood trick or treating, having fun halloween games in the dark, and watching a movie. Some of my favorite parts of Halloween are getting to dress up as scary/funny characters that you wouldn't usually wear out in public on a normal day." 8th grader Amelia Schwendinmann said.
Few parents limit their children and don't believe that their kids can't go out and celebrate Halloween in big gatherings. They view people such as what Stephen Kissler from USA Today said fallaciously.
"I know what they say about COVID-19 and I understand it, but I am letting my kids go out. They are only kids. They all have the vaccine and they are only kids for a certain amount of time. All I want for them is to enjoy what they are given. My parents didn't always encourage me to go out and enjoy Halloween so I am for my kids." Walter Olsen said.
Halloween is starting to sound as a positive upcoming holiday for not only the kids but the families, and parents as well. Making sure people are safe is the contradicting point.
Leave a Comment
About the Contributor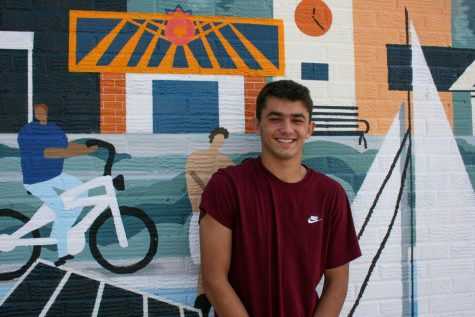 Jacob Farrell, Sports Editor
Hi my name is Jacob Farrell, this is my 2nd year on The Spartan Speaks. I was a reporter last year, and am now a Sports Editor. I am a captain of the basketball...