Taylor Cole: nationally ranked snowmobile racer
Andy Berrell
Sports Editor
Ride smooth, smooth is fast. That is the motto for Taylor Cole, a nationally ranked snowmobile racer, and a senior at Orono High School. Cole has been snowmobiling since he was four years old and started racing when he was five.
"I was ranked 7th out of 50," said Cole when asked about his national ranking.
In terms of state ranking, he has been the Minnesota Pro-Lite regional Champion for two years in a row. But winning is most definitely not a new habit for Cole.
According to an article written on Patch.com by Lisa Buck, a mother of other Orono students, Cole has been winning races consistently since 6th grade.
"Taylor Cole took first place at the Snocross World Championships in Wisconsin earlier this month. Cole won the junior novice division for 10 to 13-year-olds and was awarded a trophy, jacket and the coveted checkered flag," Buck said.
Snowmobiling is a consuming sport, physically and mentally. Ever since he got hooked as a kid, Cole has not slowed down. The sport requires a lot of travel and upkeep in order to perform well, and Cole is down for all of it.
"I travel all over. The first race is in Duluth, Minnesota, the farthest we go away is Buffalo, New York, and the last race of the year is in Lake Geneva, Wisconsin. We also went to Jackson Hole Wyoming, Deadwood South Dakota, Canterbury Park in Shakopee, Minnesota, Mount Pleasant, MI, and Dubuque, Iowa for the national circuit."
"My personal favorite [race venue] is Deadwood SD. It is an amazing town, the track is always good racing, and for the last five years we've been going there I've won four times."
Although snowmobile racing isn't a true team sport like football or basketball, Cole said he has many people to help prepare him for success.
"I race for Plaisted Racing. It's a local team out of Elk River, MN. I'm also a factory Polaris rider. That means I basically am a rider for Polaris, but because they don't have an official team, I still race for myself. Another major sponsor is FXR which is a snowmobile and Motocross clothing brand." Cole said.
He said he even has a mechanic who has been with him since he was 14.
"A lot of my success is thanks to him for always making sure my snowmobile is top notch," Cole said.
He also has a trainer, John, from Odom Health and Wellness, who helps him get the stamina and endurance to race.
As for his future, Cole said his plan is to keep racing as long as he can and to accomplish the goal of becoming a professional racer in the near future.
"Right now in nationals I race in the Sport class which is two classes away from pro class, next year I plan to move up to the Pro-Lite Class in the national circuit which is the class right under pro."
As of now though, Taylor Cole will continue to dominate the world of snowmobile racing, one race at a time.
About the Contributor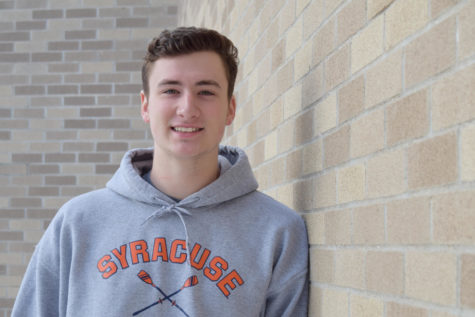 Andy Berrell, Staff
I am a senior, this is my first year on the Spartan Speaks staff and my first semester in Journalism 2. Here at Orono, I play for the Varsity Basketball...