Snowboarding The Slopes To State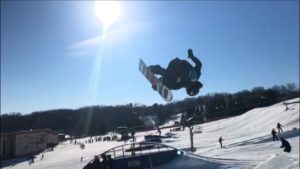 Looking down at the long, snowy descent, eighth-grader Antonio Ward doesn't think. He just goes. Constantly snowboarding down the transient slopes, at the age of 14, he has already become the number one snowboarder in the state at the high school level.
Orono placed no. 3 in overall snowboard category because Orono students compete in it although it is not through Orono, according to the snowboarding competition site the "G" Team.
"During competition, I don't really think about it, I just kind of treat it like another practice run," Ward said.
308,000 people in Minnesota ski or snowboard, according to a 2013 study by skiandboardmn.com. There are 9.2 million across the globe that participate, according to statista.com. It's no wonder that when Ward first snowboarded, he didn't want to stop.
"Snowboarding is all he ever talks about. He's obsessed. During the summer, he talks about how excited he is for winter," Ward's sister and sophomore Juliana Ward said.
"
Winter sports, in general, are a lot of work because they require a lot of preparation — gear is expensive and you need to travel for a lot of it"
— Nathan Porter
Coached by an old professional snowboarder, this is Ward's fifth season snowboarding. He partakes in both slopestyle, which involves rails and different jumps, and rail jams, which is just rails.
During the winter, he goes to the slopes almost every day after school; his favorite place to go in Minnesota is Hyland Hills, located in Bloomington. Hyland Hills is part of the Three Rivers Park District and is one of the three snowboarding and skiing locations in Minnesota. The other two are Buck Hill and Afton Alps.
"[Hyland] is one of my favorite places to go. It's just where I have been snowboarding forever," Ward said.
During his off months in the summer, Ward trains by going on trampolines and sometimes attending snowboarding camps. He's gone to camps in places like Oregon and Colorado. When he's not snowboarding or preparing for it, he is either skateboarding or at home playing video games.
"Winter sports, in general, are a lot of work because they require a lot of preparation — gear is expensive and you need to travel for a lot of it," teacher Nathan Porter said.
Balancing work and play is tough especially for an incoming high school student. The effects of the sport can cause damage to grades if time is not balanced properly, along with the possible injuries and physical strain that come with the sport. Snowboarding is a highly dangerous sport that can cause damage in many forms.
"You do your homework and stuff first, then you snowboard: school before sport," Ward said.
As far as future plans for Ward go, he plans on just having fun with it and seeing where it takes him. He does not snowboard for a team, he snowboards for himself and plans to continue participating in the sport.
"I just want to have fun with it and keep doing the sport," Ward said.
About the Writer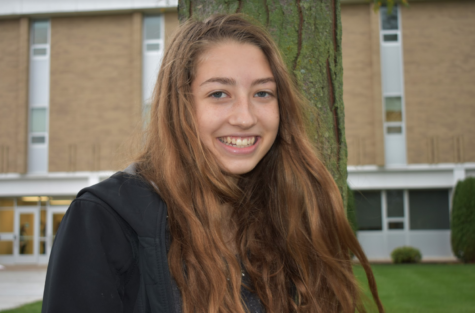 Ella Weinbeck, Features Editor
Hi, I'm Ella Weinbeck, the Features Editor and a cartoonist for The Spartan Speaks Newspaper at OHS. I am really excited about this year for The Spartan...