Student represents Minnesota at journalism conference in D.C.
Hang on for a minute...we're trying to find some more stories you might like.
Cari Spencer
Editor in Chief
I still remember it clearly: stepping out of the airplane jet bridge and into the Ronald Reagan Washington National airport last June, smiling nervously at two boys wearing the same light blue "Dream, Dare, Do" t-shirts as me, and feeling, already knowing deep inside, that my life was about to change.
Our shirts were not the only similarity between us. We had all been selected to represent our states at the Al Neuharth Free Spirit and Journalism Conference in Washington, D.C., we all had wrinkled suits in our luggage, and we were all about to experience a week-long, all-expense paid trip of a lifetime.
Most importantly, we were all passionate student journalists. From June 16-21, we would learn more about a career in the field of journalism, the future of newspapers, and the importance of protecting the rights and credible reputations of journalists. We would meet reporters from many of our favorite newspapers, tour government and media rooms we had only dreamed about being in, and–what I remember the most– meet some of the most kind, talented, and funny student journalists in the nation.
"
I'm going to be a journalist."
— Cari Spencer
For those six days, not a second was put to waste. My roommate and I would wake up at 6:30 a.m, head down to breakfast (reaching instantly for the Holiday Inn black coffee) and feel the rush of each surreal experience wash over us until our 11 p.m. curfew. On the first full day, we were granted access to NBC Washington studios, where we not only got to sit on set and watch a live taping of "Meet the Press," but also ask Chuck Todd questions. Every day we would have numerous experiences like that, ones that made us pinch ourselves to see if we were dreaming. My friend Will, from South Dakota, said that those six days gave him the highest frequency of goosebumps he had ever experienced, from hearing or seeing something amazing every minute.
One such "goosebump moment" was a talk with David Fahrenthold, a Washington Post reporter and Pulitzer Prize winner (I got to ask him a question!), another was a tour of the USA Today newsroom. I will never forget singing civil rights-era protest songs with Joan Trumpauer Mulholland and Dr. Ernest Patton, two inspiring Freedom Riders, or walking around the Newseum and feeling completely overwhelmed, in the best way possible, by each tribute to the First Amendment freedoms. I will always remember when Mary Pilon, a 2004 Free Spirit alum, said that journalists belong to a metaphorical "fourth branch" of government, because their words can cause the public to demand government action; I'll never forget how afterwards, I instantly wrote in my notepad, "I'm going to be a journalist" five times.
But there's more that I will never forget: memories tied to the teenagers who made me realize just how unifying a shared interest can be. Despite us all coming from different states and having varied political opinions and backgrounds, there was never any conflict. Every single person I talked to was welcoming, and each conversation I had felt meaningful.
Whether I was with someone from Louisiana, Michigan, Rhode Island, Pennsylvania or Hawaii, it made no difference. We all made memories together–from the bus ride karaoke parties and evening walking tours around D.C. to the wonderfully bizarre dinner conversations and games of "What are the Odds."
Sharing a passion, one great similarity, broke down the big differences. That is a lesson from the trip that I will always remember, a tool that I will carry with me forever. Because of the conference, I had the best summer of my life. I solidified my love for journalism and my commitment to becoming a reporter. I met some of the best people I will ever meet, people who I am still in regular contact with months later. To any high school junior interested in pursuing a career in journalism, I highly recommend applying to be a Free Spirit.
Applications will be accepted until Feb. 1, 2019. For more information, click here.

About the Writer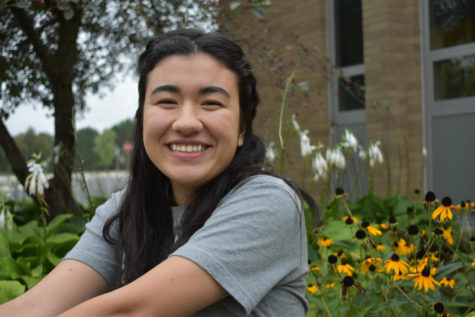 Cari Spencer, Editor in Chief
Hello! My name is Cari Spencer; I'm excited for my second year as one of the Co-Editors in Chief. I'm a senior in Journalism II and have been writing...