Danny Striggow: Sophomore Wrestling Star
Hang on for a minute...we're trying to find some more stories you might like.
Fall is over and winter is here, meaning a whole new set of sports. One of those sports is wrestling and one of those wrestlers is Danny Striggow. Striggow is a high school wrestling star. He is only a sophomore but has had a great deal of success so far in his high school wrestling career.
Wrestling is nothing new in the Striggow family. He grew up surrounded by wrestlers. His dad, uncles, and cousins all wrestled throughout high school. Some of them winning state championships and even some moved on even further to wrestle in college. His brothers are also wrestlers who have won high school state titles. Striggow began his wrestling days around four years old.
Striggow is now on the varsity wrestling team for the fourth year in a row. He has made amazing accomplishments throughout the years and has improved greatly. "A huge achievement for me was making it to state as only a freshman. I made it in the top 12," Striggow said.
A typical wrestling season begins in mid November and lasts until around the beginning of March. The team has practice everyday from 3pm-5pm. On days off school, including break, they have practice from 8am-10am. They have matches either on Thursdays or Fridays, or sometimes both. Saturdays are the days for the tournaments.
His teammates admire him for the hard work and effort that he puts into the team. "He is so hardworking and never gives up. His hardworking traits inspire and encourage the rest of the team and pushes everyone else to be better. He's a great wrestling role model to look up to," teammate Cameron Januik said.
Striggow always tries to incorporate the whole team even though the sport is based on individual results. "The team is a major aspect of the sport because it's your teammates who are there for you to push you to work harder to reach your individualized goals," Striggow said.
Not only does his hard work pay off on his own results, but it also positively affects the rest of the team. "Danny helps to encourage everyone on the team. He makes others work their hardest and inspires everyone to do their best. It's really helpful to have someone like this be on the team," teammate Josh Kovalik said. His teammates are grateful to be on the same team as him and are excited to see where this current season will take him.
Striggow plans to continue varsity wrestling through the rest of his high school years and is ready to make more progress this season.
"Although Danny is only a sophomore, he is one of the strongest leaders and workers on the team. He is a fun athlete to coach because he is always willing to try new things and work until he gets it right," coach Joe McPherson said, "He has a lot of opportunity over the next three years to be one of the best wrestlers that have come through Orono."

About the Writer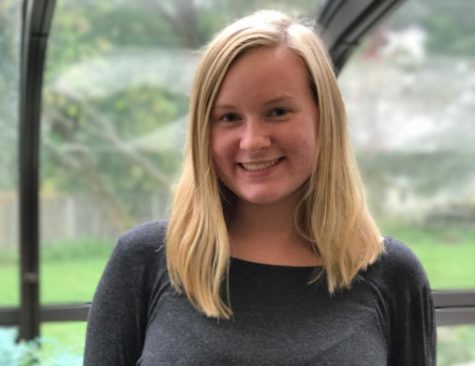 Lindsay Craft, News Editor
Hi, my name is Lindsay Craft and it is my first year being on newspaper. Last year as a junior I took Journalism I and am now in Journalism II as a senior....