Track Off to a Running Start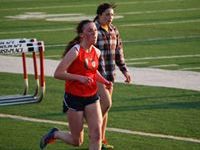 Hang on for a minute...we're trying to find some more stories you might like.
On Feb. 27, captains practices began in the underground of OHS.  Senior captains Richard Beck, Luke Greenagel, Grace Leslie, Emma Sternberg, Oliva Scharf and Logan Wikstrom devised practices for participants the two weeks before Track and Field officially began. The intent was to train team members to be better equipped for practices when the season officially began on March 13.
The 2017 Track & Field team hopes to see great success in the coming months, under the guidance of Justin McCoy, Brain (Speedy) McCollar, Nate Proter, Bobbyt Crofutt and Curtis Eischens.  The coaches hope to lead the 80 track participants to success in their first meet of the season on April 7.
"I am so excited for the first meet of the year, it is always so exciting to see the new track team come together for the first time," senior captain Grace Leslie said.
The first invitational Track & Field met takes place at Irondale High School, and during the met, Orono will compete against Irondale.  Before meets, the team always makes sure to load up on carbs to better prepare themselves for the met the following day against components in the Wright County Conference.
"I love carbo-loads before meets.  Parents always bring in delicious food for us to eat before the meets, and it is always a great team bonding experience," senior captain Emma Sternberg said.
After the kickstart of the season, Orono Track & Field will continue until June, where the True Team Met will conclude the official season.  At the True Team Met in 2016,  former OHS Track & Field participants were able to obtain the  Girl's Class AA Finisher in the State True Team Met.  The 2017 team hopes to see as much success, if not more, by the end of the year and continue to shatter school records across the board.