Teacher Spring Reading Recommendations
Students at Orono High School are required to take English courses for all four years of attendance. Within these classes, students read classics such as "Frankenstein", "Romeo and Juliet" and "To Kill and Mockingbird", as well as impactful modern texts like "The Poisonwood Bible" and "Americanah". However, there are countless books in the world, and not all of them can be read and analyzed in four years. So that begs the question: What are some good books for students to read? To answer this, six teachers were asked what books they would recommend to students.
"My personal favorite is "The Nightingale" by Kristin Hannah… it was so sad, I sobbed multiple times because it was so well-written and combined so many themes by focusing on the characters and their relationship," English teacher Ms. Nohner said.
"The Nightingale" is the story of two French girls trying to survive the Nazi occupation of France during WWII. Upon its release it was very popular, spending 20 weeks on the New York Times Bestseller's list.
"I would recommend "The Bean Trees" by Barabara Kingsolver because it is a super heartwarming story about Native American life and is a wonderful coming-of-age story," Media Specialist and teacher Ms. Frie said.
The book's author, Barbara Kingsolver, also wrote "The Poisonwood Bible" and is renowned for her abilities of describing scenes and emotions, as well as representing complex themes.
"My choice is "Last of the Breed" by Louis L'Amour because it was a very different and exciting read compared to most," Biology teacher Mr. Buch said.
Louis L'Amour is best known for his Western novels about cowboys, but in "Last of the Breed", he tells a very different story. It takes place in the 1970s and follows a Native American pilot who crashed over The Soviet Union and must escape the Russians who are tracking him.
"For students I would recommend "The Odyssey" by Homer, because of its timeless characters and plotlines. It is the ultimate adventure story," OHS mathematics teacher Ms. Swenson said.
"The Odyssey" is almost three thousand years old and has been translated countless times from its native Greek. It follows the story of the hero Odysseus as he tries to return home from the Trojan War, but is constantly blown off course and must survive trials by the Gods for his slights against them. It is regarded as one of the bedrocks of Ancient Greek literature.
OHS Journalism Mr. Sherman recommends "Cloud Cuckoo Land" by Anthony Doerr, which was published in 2021. It is the story of people from the far past to the distant future examining the terror that exists around them from pandemics to impending invasion, while also finding comfort in the eponymous book.
"Not only did I find its multiple storylines interesting, but I found it relatable to the modern day while still being a good science fiction story," Sherman said.
Anthony Doerr also won the Pulitzer Prize in 2015 for fiction for his novel "All the Light We Cannot See."
"Specifically, to upperclassmen I would give them "The Lone Ranger and Tonto Fistfight in Heaven" by Sherman Alexie because it is a very interesting coming-of-age story. It is quite funny and does a good job of explaining to the reader the familiar and unfamiliar as the main character grows up as a Native American on the Spokane Reservation," English teacher Mr. Lundquist said.
For anyone interested in finding something to read, the media center is open during school hours, and the staff is also happy to assist, give recommendations and provide other students' experiences.
Leave a Comment
About the Contributor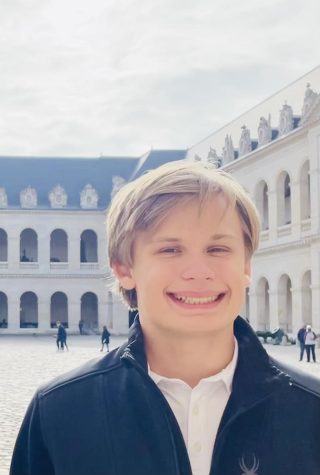 Joseph Mariani, Opinions Editor
Hi, my name is Joseph Mariani, I am a junior, and this is my second year writing for The Spartan Speaks. I am excited to report on school events, especially...