Fun Fall Activities and Locations
Fall is one of the most popular seasons among many Orono High School students. After gathering opinions and statements from the student body, many of the best places in Minnesota to visit during Fall were reported.
Locally, Apple Jacks is one of the most popular locations reported by Orono students. The many activities that the apple orchard offers, creates a fun environment for people of all ages.
"Apple Jacks has a lot of popular activities, over at admissions there is riding horses, horse wagons and apple canons," an Apple Jacks Employee said.
Among the popular activities the orchard offers, they also sell an abundance of Fall delicacies, "apple butter is a big thing for people to come for," an Apple Jack Employee said.
Apple Jacks Orchard stands out from the other many orchards in Minnesota because of its, "Fall Harvest," an Apple Jack Employee said.
The "Fall Harvest" includes picking apples, drinking apple cider, hayrides, corn mazes and other Fall festivities!
Among Apple Jacks being a popular place to visit during Fall, many students responded by saying that going up north or to their cabins was their favorite Fall activity.
"Duluth is my favorite place to go to in the Fall because everything up there is so pretty. There are so many trees, and their colors are changing and it's just really beautiful, " OHS Senior Brooklyn Elsenpeter said.
Many of the students who participated in the poll reported that the changing leaves and moderate temperature are main factors in why Fall is their favorite season.
"I went on a hike at Spirit Mountain. It is so pretty because the hills overlook Lake Superior, and with the trees, everything is so pretty," Elsenpeter said.
Brooklyn's favorite Fall activity is going for Fall walks, "I go for walks about once a week, and I will go with my friends and family…I always go for walks on the Dakota Trail and the Loose Line; those are really great hiking spots," Elsenpeter said.
Among walks and hikes being a top Fall activity for many OHS students, Sever's Corn Maze and Farm Market was a popular choice by many.
"Sever's Corn Maze and Farm Market is a seasonal tradition at Peterson Farms that has spanned for over 25 years. It is home to the second oldest corn maze in the United States and was Minnesota's original Fall Festival. In our beginning years, the Fall Festival included our famous corn maze and produce grown on our farm. But now, we offer a variety of activities for families of all ages to enjoy—like our new giant slide, Corn Maze Challenge, petting zoo and more," Rayna Campbell, Assistant Account Manager for Sever's Corn Maze and Fall Market said.
Sever's Corn Maze and Farm Market is open throughout Fall and there are various ways to purchase tickets.
"Sever's Fall Festival runs from September 17- October 30, 2022. Throughout the season you can purchase tickets online at a discounted price or you can purchase them for full price onsite. From August 15-September 10, we offer presale tickets," Campbell said.
Going to an orchard can be a fun activity to attend with friends and family, but what people may not know is the level of planning and preparation that goes into opening an orchard each year.
"There is so much planning that goes into the Fall Festival to make it the memorable family experience it is today. It all starts in mid to late June when we decide on budgets, signage and plan out the season. Then we develop a theme and plan our corn maze around that. We also have to have people design the booklets, design the Corn Maze Challenge signs and a lot of the marketing aspects. There are a lot of moving pieces that we have to help oversee in order to make sure things run smoothly and everyone has a great time," Campbell said.
Many students expressed their enjoyment for the various activities offered at local apple orchards.
"Sever's is truly unique when it comes to Minnesota Fall festivals. We are home to Minnesota's original Fall Festival and the United States' second corn maze, ever. We have a new giant slide this year that stands 57 ft tall—which is taller than the MN State Fair slide…," Campbell said.
Sever's is not just open for the Fall season but also winter as well.
"Our holiday lights celebration offers a fun (and warm) way to experience all the beauty of holiday decorations, which dance along to music we play right into your car! The drive-thru has more than 2.5 million lights, themed decorations and even a couple new additions that you'll have to come out and see for yourself," Campbell said.
Similar to the Fall season at Sever's, there are many winter activities to participate in.
"[The] whole family can still come and have a great time at Sever's because we have a wide variety of activities for everyone to enjoy," Campbell said.
Local festivities are currently open, but make sure to check the various schedules because apple orchards will only remain open through October.
"The festival is open Saturdays and Sundays through October 30, as well as Thursday and Friday of MEA weekend, so come check it out before it's over until next year!" Campbell said.
Fall is OHS students' favorite season, and some of Minnesota's best activities are going on right now; make sure to stop by before the season ends!
Leave a Comment
About the Contributor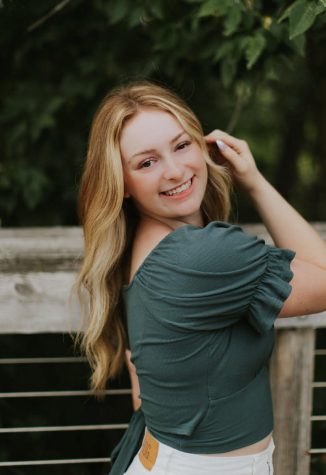 Summer Beatty, Features Editor
Hi, my name is Summer Beatty, I am a senior and currently the Features Editor. This is my first year with The Spartan Speaks. I am also involved in NHS,...