Care for Troncones
Keith Jurek, an Orono teacher who supports any community in need of help, has rounded up students to help the community of Troncones, Mexico rebuild their lives after destruction to their hometown was caused by the ongoing COVID pandemic and Hurricane Rick. Barba Lindlin, retired high school principal in Troncones, volunteered her time to help the school and connected Jurek with the school in 2000. Barbra is still involved today with Jurek's help to rebuild Troncones. As a DECA advisor too, Jurek has put this project together over the years with the help of senior students at Orono High School. This year the seniors are Charlotte Finch, Aiden Ecker and Jack Kopesky.
At the beginning of the school year, Jurek assigned the project to the students so they could raise money to support a new idea for the students in Troncones, following the devastation ensued by Hurricane Rick during the COVID-19 pandemic. This project aims to help the students fully attend school.
"We promoted fundraisers within our own community in order to raise money for a community in Troncones, Mexico. There has been an increase in drug usage since the start of COVID-19. There's also been hurricane damage. And so all of the funds we raised kind of went towards fixing hurricane damages, creating a soccer club, as well as covering transportation to the schools," Finch said.
For Ecker, Finch and Kopesky, they did what was asked of them by Jurek and more. Ecker wanted to help by coordinating a soccer program for the students with beginning a soccer team for the students. Finch wanted to give back to the community, so she helped manage the money for new building sites. And Kopesky helped with the fundraising ideas to get the ball rolling for the project.
The fundraising activities that the students ran include the Blacklight Dance, a Chipotle fundraiser, Orono's annual Survivor Week and "Jarritos for Amigos."
The Blacklight Dance was hosted on Friday Dec. 3, 2021. Ecker, Finch and Kospesky partnered with the student senate by assisting the dance and activities. The dance was a great success- with almost 200 Orono students attending they were able to raise $988 that night.
"We raise funds through ticket sales and concession sales. And yeah, we had other fun activities like bingo and cookie decorating," Kopesky said.
The Chipotle fundraiser appealed to many hungry students and parents, not only did it hit the Orono community, but neighboring schools, friends, family members, and teammates. The fundraiser made about $300 for the students in Troncones.
The third fundraiser was the students biggest outcome, with Orono's Survivor Week. Modeled after the television show Survivor, Orono's Survivor Week was four days long, with students volunteering and competing in different challenges, raising more than expected; $9,000.
"I had also been involved as a contestant in Survivor Week, my freshman and sophomore year, so I reached out to Jurek wanting to do that as my DECA project senior year, and then just kind of by chance I would be using Survivor Week as a fundraiser for a bigger project " Finch said.
The final fundraiser, "Jarritos for Amigos," was held in Feb. with authentic Mexican sodas. The Jarritos drink was a good fit for the students of OHS, as it came down to the time for Jurek and the DECA Project Managers to tell the students how much they made.
Not only did Finch, Ecker and Kopseky surpass the goal they intended to reach of $6,000, they almost doubled the amount to $11,000. In past years, students have not been close to their goal for this community. Now, the project manager has raised more than any student has before.
"We just had a meeting with our representative with the school district (Jamie Fernette) and we have decided to fund only one soccer club, as they're just getting started. So what we hope for is increased attendance or increased involvement with that moving forward," Ecker said.
The rest of the funds will be allocated to any damages from the hurricane and transportation in order for the students to get to school. With only 700 residents in Troncones, it is best to connect with the community. Jurek will be going down to Troncones over spring break this year to deliver the funds and check. While there, he will aid the community in any way he can and meet new students who now get to attend school.
Leave a Comment
About the Contributor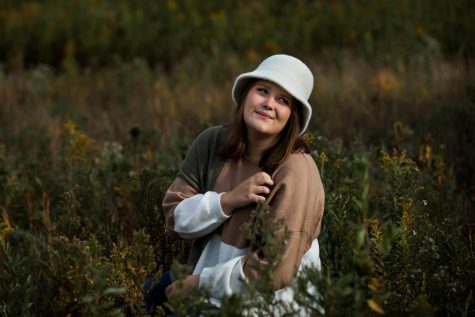 Sydney Heckmann, Visual Editor & Business Manager
Hi There, my name is Sydney Heckmann. I have been with the Spartan speaks for 4 years now. In my free time I work at Buckle in the Ridgedale mall. I also...