URGENT: Covid-19 Update, Myths on the the so called Coronavirus
The Centers for Disease Control and Prevention recently granted distribution of the COVID-19 vaccine for kids ages 5-11 years old. On Nov. 3, parents were finally granted the ability to vaccinate their children at their local clinics. Despite kids getting the vaccine, a spike in hospitalization rates and deaths per day has significantly increased. Minnesota is the leading state with the highest covid infection rates in the nation, with a 68 percent increase in transmission rates in the past two weeks.
"In order for schools or public spaces to decrease the spread of COVID in the school the most important thing is when you're not feeling well don't go to school. Masks offer some protection, vaccines offer some protection, not everyone can be vaccinated for various reasons. If you or anyone else has any symptoms do the right thing and stay home," Dr. Sally Engebretson, an Internal Medicine Physician at Voyage Healthcare, said.
Dr. James Lawler, Director of the Global Center for Health Security, said in his Sept. 7 daily briefing that he has heard several myths regarding COVID's effect on children. He rebutted the myths such as: "COVID impact in Children is small," "School is the safest place from COVID for Children," and that "face masks don't prevent COVID spread" stating that none of these statements are true.
"I was concerned at first, it made it seem like a very scary virus and I was concerned for my grandparents, parents, and me, with my asthma," senior Will Petrie said.
Petrie said wearing a mask is challenging because he has asthma and wearing a mask is physically more difficult when he is running around the school going from class to class.
The CDC and the Minnesota Department of Health on Nov. 9 briefed the public with information about the new boosters and the vaccine for children, to increase the protection of Minnesota citizens, as well as mask-wearing and social distancing recommendations. On Nov. 15, unvaccinated people made up the majority of COVID cases that were hospitalized or who have died in Minnesota.
"Everyone knows of the virus, the virus mutates and then they have a different variant that it becomes and they all manifest a little bit differently. They tend to get a little bit weaker over time but they have an effect on different populations, so initially, the highest groups of people were really in the immunocompromised," Dr. Engebretson said.
According to the Allina Health system, 222 out of 297 patients hospitalized with COVID were unvaccinated; about 75 percent of the total. Just within the last week, the data from the Minnesota Department of Health has added 7173 new cases to the state's pandemic total.
Additionally, Pfizer is producing a pill that can be taken at home to help the recovery of COVID and reduce symptoms to keep people out of the hospital. The drug is an antiviral drug that blocks key enzymes in the human body.
"I would say probably the biggest myth is; it's just like the flu, which is not true, it's a completely different virus that attacks completely different tissue in the body. Way more effective than the flu. Another one is that, if someone already had COVID they can't get it again," Orono High School biology teacher Jeremy Buch said.
With having the virus mutate differently over time, people have more and more myths or ideas on COVID or the vaccine. Some of them:
Spraying chlorine or alcohol on the skin that to kill the virus in the body
Not true, because alcohol or chlorine to the skin causes harm
Everyone with COVID dies
Not true, some people can just have symptoms and still be alive.
Antibiotics Kill the Virus
Not true, they kill bacteria
Children cannot get COVID
Not True, anyone at any age can get it
The government is tracking us
If they wanted to they could track us on our phones
"A typical day as a school nurse is a lot more complicated, I do ask every student that enters my office if they are vaccinated. I will put a gown and gloves on and take extra precautions if someone is not feeling well. We also have an infection room especially when the kids are coughing; it protects me and the other students that come into my office. We do now have a testing kit that students can use to test if they have COVID," Orono High School health clerk, Ann Turner said. "For me, as students get COVID, I have a spreadsheet and make a lot of phone calls to families. I mostly educate them on what they have to do, and the circumstances of what they have to do because a lot of the time parents aren't always educated on COVID and the vaccine."
Leave a Comment
About the Contributor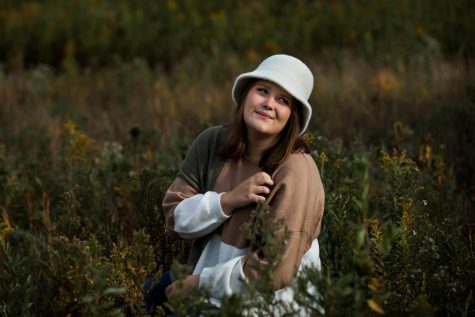 Sydney Heckmann, Visual Editor & Business Manager
Hi There, my name is Sydney Heckmann. I have been with the Spartan speaks for 4 years now. In my free time I work at Buckle in the Ridgedale mall. I also...