Fall destinations for MEA break
MEA stands for Minnesota Education Association. It's a four-day weekend in the fall for teachers to conduct meetings or catch up on work. It also gives students a break in the school year to go on vacation. Students partaking in travel typically either visit their cabins, while others may go out of state.
"Driving in the car and seeing all the leaves on the tree is my favorite, especially when you go to other places and see the different colors in the fall," senior Ella Solie said.
Some fall travels people have done globally this year largely where to Europe, in countries such as Italy, France and London. Individuals go to experience the fall weather, see the changing colors of nature and try food from various other cultures. From the "Travelagent magazine": fall trends, "expert advises to book Europe destinations such as Venice now for the fall travel."
"I am heading up to my cabin to visit my grandparents and all of us are heading towards the apple orchard, which is probably the best part of this MEA Break," sophomore Charlotte Bertram said.
Fall can be one of the best times to travel because of the weather and low prices that you can't get in any other season. There are only two types of people that travel during the fall season; it's either to a paradise vacation or to see and feel the fall season.
"This planned vacation to Michigan was to go see the Michigan football game but also to visit my grandma and on the way, I hope to not be bored, because it is a very long car ride," junior Carly Pitts said.
Past fall season locations people have traveled to include Connecticut, Massachusetts, New Hampshire and Maine. All these are on the east coast, which has vibrant colors during the fall season unique to the region.
Connecticut has the hills and roads layered in leaves, while Massachusetts has a vibrant culture intermixed with small-town feels. In New Hampshire, one can see all the waterfalls that glim in the fall season, whereas in Maine the forest alone speaks for itself. The views driving through the forest are spectacular because of the beautiful fall colors in the leaves and trees.
"The best part of the fall season for me is being able to drive around going to the pumpkin patch and apple orchards with my friends and family," senior Eliza McKnown said.
Top Locations for MEA in Minnesota:
Stillwater
Red Wing
Hudson, Wisconsin
White Bear Lake
Duluth
The Cabin
Top Locations for MEA outside Minnesota:
Yellowstone National Park
Grand Canyon
Great smoky mountains national park
Sedona, Arizona
Charleston, South Carolina
Boston, Massachusetts
The list of locations is a great guide for when you need a weekend away but are unable to leave the state or need an adventure outside of Minnesota. According to "Minnesota Monthly," Minnesota public schools are finding short trips to see the last fall breath outside the cities.
Leave a Comment
About the Contributor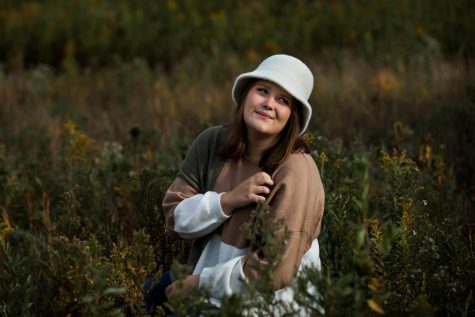 Sydney Heckmann, Visual Editor & Business Manager
Hi There, my name is Sydney Heckmann. I have been with the Spartan speaks for 4 years now. In my free time I work at Buckle in the Ridgedale mall. I also...