John Graham: from a drumming prodigy to an aspiring professional musician
John Graham is an Orono senior with an undeniable musical talent. Graham's love for playing music began when he got his first drum set on Christmas in fifth grade. Learning how to play the drums, Graham describes, was instantly rewarding: he found what he had a true natural talent for.
Over the years, John has not only improved on his favorite instrument, the drums, but has also taken up studying different kinds of keys, guitar and bass, and is even taking singing lessons with mom to become a more well-rounded musician.
To jumpstart his hopeful music career, John has started to combine his talents and start producing and releasing music. Graham has two full songs released on his SoundCloud, entitled It's Too Late and Everytime I See You.
"So there's two ways that I'll go about creating a song: one way is if I have a melody in my head or a couple words, I'll take out my voice memos app and record it. Later, I start playing drums and other instruments along to it and see what I like. Or if it's a more pop type song, I will listen to a song or an album that really inspires me, and then I'll take some of the things that I like and steal some ideas from it, then I'll make a melody after I make all the instruments." Graham said.
John's most recently released song, Everytime I See You, also has a music video that was uploaded to his Youtube and Instagram account on December 12th, 2020. He was inspired to do a music video because he first became well-known for his music through the music video he made with fellow Orono Senior Joe Smith for his first ever released song, It's Too Late.
When John isn't producing songs, he is creating instrumentals, drum solos, or doing covers of his favorite songs on the many instruments he plays. Videos of all of John's talents can be found on his instagram, @John_Graham_Music, which has amassed over 300 followers.
"I'd like to be able to be a session drummer so people can hire me to play on their albums. But we'll see where it takes because I can do more than just drums. So if I end up being good at producing or mixing then I could do something like that too," Graham said.
Graham's ultimate goal is to make music his career in the future. He also encourages others who are interested in music to take a chance and try it out. His biggest piece of advice is to do whatever makes you happy, as music has been a great source of fun for him.
About the Contributor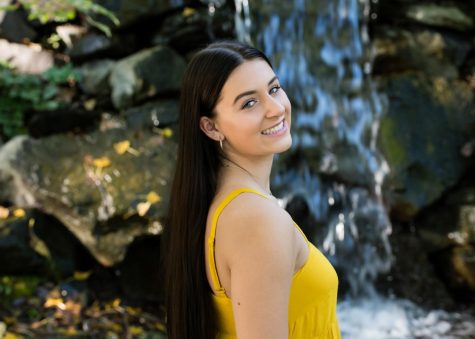 Lauryn Pietrzak, Editor in Chief-Visuals
Hello Everyone! My name is Lauryn Pietrzak and I have been a part of the Spartan Speaks since my sophomore year. I love turning my articles into broadcasts...