Following the Yellow Brick Road to Opening Night
"Mic check!" yells soundboard operator, Senior James Konkol, over the commotion of the auditorium. Actors quickly file through as Konkol gives them the 'OK' that their microphone is ready. Meanwhile, stagehands are busy running back and forth from wing to wing ensuring that all the props are also ready for the show. The fall musical selection The Wizard of Oz is ready to hit the stage after months of preparation.
The Orono High School theater is not only performing the famous story and movie, but they are taking an alternative approach to the famous production by adopting a "steampunk" version of the story. All of the famous characters are still present along with the dialogue. However, this version of the Victorian-Era story is more mature and modern in hopes to have a greater appeal to the student body (especially high schoolers).
"The way that ours is a little bit different is that we have sort of taken creative license on the production aspect of it and trying to modernize it and make it feel a little bit more grown-up for some of our high school students; we decided to take it in a steampunk direction. Steampunk is a concept, a thematic concept that is used frequently in pop culture now but specifically relates to the Victorian Era," English teacher and director Kelsie Balon said.
Although almost everyone and their mother knows the classic story of The Wizard of Oz, here is a brief summary to help anyone catch up on the 119-year-old tale. What began as a children's book written by L. Frank Baum in 1900 featuring Dorothy Gale, Tin Man, Scarecrow, Cowardly Lion, The Wicked Witch of the West, and Dorothy's dog Toto, was then adapted into many different versions. The most well-known version of this story is the 1939 Metro-Goldwyn-Mayer film.
The Wizard of Oz movie features Judy Garland, Margaret Hamilton, Ray Bolger, Jack Haley, and Bert Lahr. It is a "musical fantasy" that follows "Dorothy Gale, a young Kansas farm girl who dreams of a land "somewhere over the rainbow."" Dorothy's dream comes true when she, her dog, Toto, and her family's house are transported by a tornado to a bright and magical world, unlike anything she has seen before," according to Warner Bros.
Although this is the most famous version, there have been many others produced since the release of the book. The earliest productions were stage productions in 1902 and 1903, later followed by silent films made in 1910. "Next came the 1939 version, a rare instance in which a great book became a great film," said the Library of Congress. Decades later, TV spin-off dramas were produced and aired between 1975 and 1990.
So what about Orono's production? With casting so close to the original, it seems like the lead actors could have been the understudies in the 1939 film. The cast features senior Maddie Shafer as Dorothy Gale, senior Dylan Mika as Scarecrow, sophomore Jakob Waller as Tinman, and junior Jacob Larson as Cowardly Lion. Supporting roles feature senior Gabi Schafer as Glinda the Good Witch, Michael DiPrima as a guard, senior Alisha Pfeifer as The Wicked Witch of The West, and senior Wels Bowen as the Wizard of Oz. With a show like The Wizard of Oz, the cast is able to showcase their best acting and singing (and some dancing).
"The most challenging scene in the show for me has to be "Jitterbug". It's a song that was originally cut from the movie but has been put back into the musical. It's really fun to sing because it's super jazzy, but it's also a really demanding dance number! Until this show, I was not at all into dancing, but I've now gotten the hang of it!" senior Maddie Shafer said.
Another aspect of the show that makes it even more entertaining for audiences of all ages is the presence of a live dog. Yes, a live dog. When producing the musical, there was no doubt that a real-life Toto would grace the stage. Better yet, Toto (or "Starsky" as he is known off stage) is up for adoption and ready to find a forever home. Orono Theater has teamed up with Upstaged Theater Dogs to provide them with a real-life Toto. This program works with Midwest Animal Rescue & Services to train dogs for theater productions and then find these animals loving forever families.
"We choose a Toto and then that Toto gets adopted by the trainer. The trainer brings Toto to all of our rehearsals and all of our performances and works with Toto and Dorothy to help integrate Toto into the show," Director Kelsie Balon said.
"I have always been a cat person so adjusting to working with a dog has been a learning experience! One of the biggest struggles is balancing my attention between the audience and the dog. It's hard to keep the dog engaged and not be looking down at him the entire time!" Shafer said.
Why should people come to support this musical? Well, why shouldn't they? When students put forth the time and effort to help produce shows like The Wizard of Oz it is only fair that the student body recognizes that effort and that time that they have sacrificed. What they have put forward, students and staff should as well.
"People should come because it's a good show. And the people that we have cast in it are perfect for the roles. My run crew and my people up in the booth try their hardest to make this show what it is," Stage manager and senior Jada Olson said.
For anyone who has yet to see Orono's production of The Wizard of Oz, be sure to catch the last three productions this week\; Thursday, Nov. 21 at 7 p.m, Friday, Nov. 22 at 7 p.m, and Saturday, Nov. 23 at 7 p.m.
About the Videographer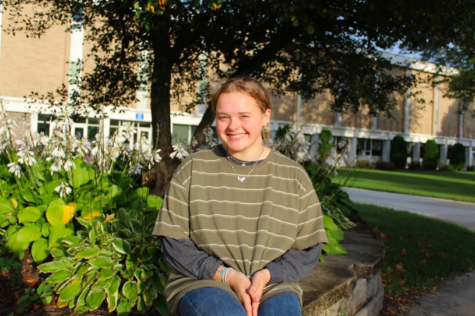 Megan Fritz, Online Layout Editor
Hi! My name is Megan Fritz. I am a senior at Orono and one of your online layout editors for this year. Though this is my second year in a journalism class,...