Dreams are the eyes into the brain
Hang on for a minute...we're trying to find some more stories you might like.
Amanda Marquis
Visuals Editor
Human beings spend around six years of their life dreaming, according to Dream Dictionary. Every night people around the world are closing their eyes to a good night's sleep. However sleep is not an 8-hour long break for our brain, it is another state of consciousness.
"The more stressed I am, the more 'out there' my dreams are. So if I am stressed and I wake up, I usually have a very vivid memory of an odd/surreal dream that I then over analyze and convince myself that it's a sign," junior Maddie Schafer said.
"
The more stressed I am, the more 'out there' my dreams are."
— Maddie Shafer
Sigmund Freud was a psychoanalyst who believed that dreams were stories based on our unconscious. He wrote the book The Interpretation of Dreams. The different symbols in our dreams are almost all negative, according to Freud. He believed that our unconscious minds produce symbols and images that give us more information about ourselves. Many experts disagree with Freud's beliefs and think that dreams don't mean anything at all, according to Psychology Today.
"I think your brain takes what's on your mind. Even if you know what it is or not, it molds your thoughts  into some type of narrative." junior Matt Jordan said.
No one knows for sure why we dream, but there are many theories. Some believe that dreams act as a type of therapy. Others believe that they draw from our past experiences or unconscious. Psychologist Dr. Kevin Gilliland PsyD has ideas about the meaning behind five common stress dreams people have. For example, trying to run but not being able to get away would suggest that the person feels overwhelmed and like a failure.
"I find dreams fascinating because something will happen in a dream and then you'll experience the exact situation in reality months or years later and remember that you dreamt it." Schafer said.
Stress impacts us physically and there is data which suggests that stress affects our blood pressure, medical conditions, and pain, according to Gilliland. Our bodies and minds are strikingly connected.
"When I'm stressed, I tend to dream more." sophomore Audrey Anderson said.
Dreams tend to be a controversial topic, even psychologists agree. They are up to interpretation, whether someone believes that they come from the unconscious or that they are just stories that the brain makes up. Either way, everyone experiences them.

About the Contributor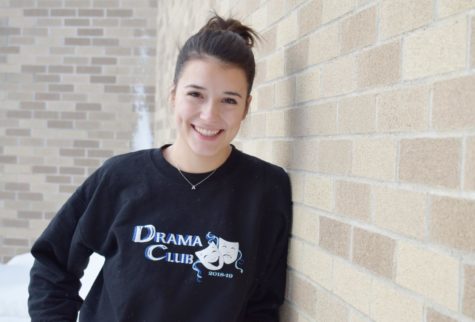 Amanda Marquis, Visual Editor
Hello! My name is Amanda Marquis! I am senior, a captain of the cheer squad, and involved in theatre here at OHS. I am so excited to be officially part...