Movies Coming to Theaters in Summer 2019 That You Can't Miss
Hang on for a minute...we're trying to find some more stories you might like.
With summer right around the corner, the hype for the newest and biggest movies of the year is in the air. Numerous previews and reviews are swirling around the internet for some of the longest awaited films. Some that are sure to break the box office include Spider-Man: Far From Home, Disneys Toy Story 4, and the newest addition to the Men in Black series-Men in Black: International. With these titles and many more, it can be difficult to figure out which ones are worth seeing, so here are a few films that all movie-goers should watch out for.
"I can't wait to see the movie Rocketman when it comes out. I also can't wait for the new Lion King to come out," Junior Sam Stavig said.
Within the array of action-packed superhero films swirling around the box-office, Spider-Man: Far From Home will surely have Spider-Man fans filling the theaters. The upcoming film features Peter Parker as him and his friends go on a European vacation that quickly takes a turn. "Peters plans to leave super heroics behind for a few weeks are quickly scrapped when he begrudgingly agrees to help Nick Fury uncover the mystery of several elemental creature attacks, creating havoc across the continent," according to IMDb. With cast members such as Tom Holland and Zendaya, this currently unrated film will be hitting theaters on Jul. 5, 2019.
"I would rather see an action movie because romantic comedies aren't my thing," Junior Sarah Nelson said.
Most likely the biggest film to hit theaters this summer is the latest addition to the family favorite Toy Story franchise by Disney Pixar. Toy Story 4 follows the well-known characters Woody and Buzz along with the rest of their friends as they go on a road trip with their owner Bonnie and her new toy, "Forkie". "The adventurous journey turns into an unexpected reunion as Woody's slight detour leads him to his long-lost friend, Bo Peep. As Woody and Bo discuss the old days, they soon start to realize they are worlds apart when it comes to what they want from life as a toy," according to Rotten Tomatoes. This currently unrated film features cast members such as Tom Hanks, Tim Allen, and Joan Cusack is scheduled to hit theaters Jun. 21, 2019.
Another film coming to theaters that will for sure have many music fans raving is the biopic film Rocketman. Similar to the most recent biopic film Bohemian Rhapsody, this film is "an epic musical fantasy about the uncensored human history of Sir Elton John's breakthrough years," according to IMDb. This film starring Taron Egerton, Jamie Bell, and Richard Madden has not yet been rated and is set to hit theaters May 21, 2019.
Yet another Disney film coming to theaters this summer is the new live-action rendition of the classic story, The Lion King. This spin on a well-loved classic features the story of everyone's favorite characters such as Simba who, "after his father's death, flees his kingdom only to learn the true meaning of responsibility and bravery," according to IMDb. This currently unrated film features big names in the music and film industry such as Seth Rogen, Beyoncé, Donald Glover (aka Childish Gambino), and Keegan-Michael Key and hits theaters Jul. 19, 2019.
Another film that many music lovers will rejoice in is Yesterday. Featuring music from the iconically timeless band "The Beatles", the story follows "A struggling musician who realizes he's the only person on Earth who can remember The Beatles…..after a freak bus accident during a mysterious global black-out, Jack wakes up to discover that The Beatles have never existed… and he finds himself in a very complicated problem, indeed," according to IMDb. This PG-13 rated film which is set to hit theaters Jun. 28, 2019, features stars such as Lillie James, Ed Sheeran, James Corden, Kate McKinnon, and Himesh Patel
"I'm excited for Yesterday, it looks like an interesting storyline and includes The Beatles, so it's a no-brainer to go see," Junior Anna Syversen said.
The final Disney film that will have fans of all ages filling the theaters is a modern spin on another classic. The upcoming live-action adaptation of Aladdin takes the beloved story that follows the story of "A street rat who frees a genie from a lamp, granting all of his wishes and transforming himself into a charming prince in order to marry and beautiful princess. But soon, an evil sorcerer becomes hell-bent on securing the lamp for his own sinister purposes," said IMDb. This PG-rated film that hits theaters May 24, 2019, features stars like Will Smith, Naomi Scott, and Mena Massoud.
Another movie that is being added to a series of many is Men In Black: International as apart of the Men In Black franchise. This film is a continuation in the series that is described as, "The Men in Black have always protected the Earth from the scum of the universe. In this new adventure, they tackle their biggest threat to date: a mole in the Men In Black Organization," says RottenTomatoes. This currently unrated film is set to be released on Jun. 14, 2019 and features stars such as Tessa Thompson, Chris Hemsworth, and Liam Neeson
Finally, a film that critics have been raving about is Booksmart. A film that is described as "Fast-paced, funny and fresh," this film does the "seemingly impossible by adding a smart new spin to the coming-of-age comedy," as described by RottenTomatoes. This rated R film follows "two overachieving high-school seniors" who "on the eve of their graduation realize that they should have worked less and played more. Determined not to fall short of their peers, the girls try to cram four years of fun into one night," according to IMDb. This film features stars like Skyler Gisondo, Kaitlyn Dever, Billie Lourd, Beanie Feldstein, and Lisa Kudrow and is set to hit theaters May 24, 2019.
"I would most likely want to see a comedy, something that just makes me feel good!" Junior Helen North said.

About the Contributors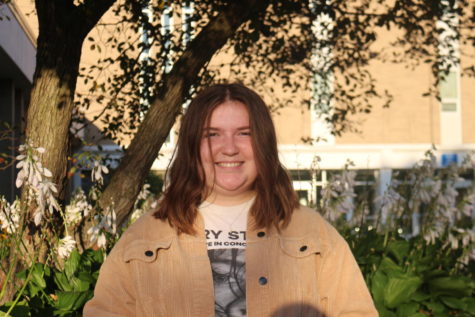 Maddie Combs, Visuals Editor
Hi, my name is Maddie Combs and I am your visuals editor and the online layout editor this year for the Spartan Speaks! This is my third year in journalism...