Trump's Trade War With China: What You Need To Know
Hang on for a minute...we're trying to find some more stories you might like.
Nina Johnson
Features Editor
In 2018, the Trump administration imposed a set of tariffs in an attempt to reduce the United States trade deficit. Thus far, the US has set in place a staggering $250 billion in tariffs on Chinese goods, these products ranging from construction materials, cars, and food. China immediately retaliated, totalling $110 billion in tariffs on US goods. This foreign turmoil has left many attempting to decipher both the positive and negative economic outcomes and effects on foreign relations that could accompany the tariffs.
Tariffs are a tax on consumers imposed by the government, which are designed to protect the interest of certain industries. The world's two largest economies have imposed these tariffs, slowing global economic growth and causing fluctuation in manufacturing. The tariffs began in July of 2018, when Trump imposed a 10-25 percent tax on materials like steel and aluminum. China's Commerce Ministry later accused the United States of launching a trade war, prompting China's response accompanied with ample tariffs on US imports.
Trump's tariffs would cause a 0.59 percent United States GDP drop, according to the Tax Foundation, which translates into roughly $148 billion. The study also estimated that there could be a national net wage drop of 0.38 percent. This estimate would likely increase as other nations retaliate with tariffs off their own goods, following in the footsteps of two of the largest contributors to the global economy.
"The trade war between the US and China reflects the deep-rooted abuse of power between the two countries which in turn harms its people," junior Molly Martini said.
In December, both nations agreed to call a 90-day standstill on the tariffs, as a second year of continuous conflict looms on the forefront of trade. On Feb. 22, President Trump met with Chinese Vice Premier Liu He and put in place a $1.2 trillion commitment for China to purchase that in US goods, which will incentivise the Chinese to make changes to their trading practices–those practices being the basis of Trump's tariffs. The result of these negotiations will ideally bring changes to alleviate trade imbalances with respect to each other's key demands.
Both nations have seen foreseeable changes in their economies. American businesses, such as Brandywine Lighting Gallery in Delaware, have most of their products supplied from China. The 10 percent tax on all of their overseas imports make a price increase for customers almost inevitable. Likewise, China has faced troubles of its own. In a tweet, President Trump stated that "China just announced that their economy is growing much slower than anticipated because of our Trade War with them."
"Since China's economy is growing so rapidly, it is foolish to impose large trade tariffs on them since in the coming decades, they will rival if not surpass our economy. Having strong foreign relations with them is definitely ideal to thrive economically in the rapidly changing global economy of the 21st century," junior Devin Hunt said.
While the tumultuous trade war between the United States and China may be coming to a slow end, its conflict has set a precedent in the global economy, as nations continue to fight to be at the forefront of the world's quickening pace.

About the Writer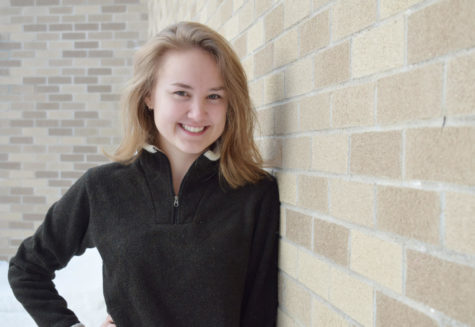 Nina Johnson, Features Editor
Hello! My name is Nina Johnson, and I'm a junior at Orono High School. This is my second year being on The Spartan Speaks, now as a Features Editor and...