Changes to the pizza line increase customer satisfaction
Pizza day, a day enjoyed by all except gluten intolerants and people working on their diets. The third Wednesday of every month is something close to a holiday for students across the high school. The local Long Lake Domino's Pizza serves around 150 boxes of Pizza to serve the hungry student body, teachers, and the custodians.  However, a new change to one of the lunch lines has people going crazy about the speed of the lines.
"
Pizza is my life "
— Pierce Pennaz
Typically, the pizza line tends to yield one of the biggest lines out of all the lunches at Orono high school. To fix this tragic problem, the masterminds at the high school came together to introduce the opening of a new line. Instead of using the salad bar line for an alternative option, the bar was used as an extra line to purchase pizza.
There were the few, however, who were not happy about the change. These people relied on a healthy alternative in the salad bar that wasn't available to them. Instead, the Snack Shoppe provided students with their protein filled greens.
Junior Jane Jonassen said, "I used the salad bar as a healthy alternative and was disappointed when I found that it was taken away."
Not only did this line change increase customer satisfaction, but it also took stress off of the lunch ladies sore hands by allowing the students to serve the food for themselves. This change to the lunch line could also be used for other popular lunches such as the pork chop or french toast sticks. Pizza day has finally been saved at last.
When asked about the taste of the pizza, Senior Pierce Pennaz said, "Pizza is my life."
About the Writer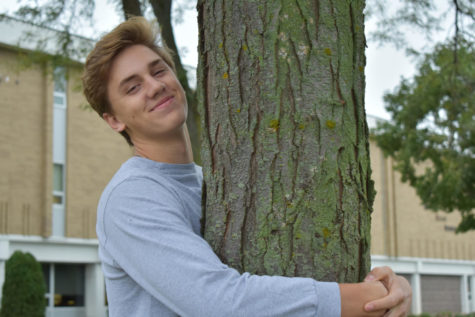 Zach Adams, Social Media Manager
Hi everyone!! I'm Zach Adams, the head of social media for The Spartan Speaks newspaper. I am the Captain of the Hockey team and the Lacrosse team. I love...