Netflix's "Wednesday" Captures Viewers
Coming-of-age style movies and TV shows have always been popular with teens. But, this new Netflix original has everyone on the edge of their seats. "Wednesday" was released to Netflix on Nov. 23, 2022. This horror-comedy is based on the child of Morticia and Gomez Addams from the original Addams Family TV show.
Not to the surprise of many, a little over a month later it received two Golden Globe Awards, the first being "Best Television Series – Musical or Comedy" and the second, "Best Actress – Television Series Musical or Comedy."
"When I first heard about Wednesday coming out, I was disinterested because I was worried it wouldn't compete with any previous Addams family movies or shows…. I was pleasantly surprised by the phenomenal performance of all of the cast, particularly Jenna Ortega, I love her," OHS Senior Taylor Effertz said.
Jenna Ortega is a 20-year-old American Actress, her career began at a young age. She began to receive attention when she played the role of young Jane in "Jane the Virgin." She then worked for the Disney Channel. But, as of most recently she gained millions of followers in a matter of days due to her outstanding performance on "Wednesday," as said in a Page Six article regarding the new show.
Ms. Ortega was honored to work with Tim Burton. Burton was the executive producer and director of the show. This eccentric man is known for his amazing works such as "Edward Scissorhands" (1990), "Beetlejuice" (1988) and "Corpse Bride" (2005).
"I think many of Tim Burton's works are very good. I think his work on "Wednesday" was a more modernized approach than he usually takes, but needless to say the show was amazing," Effertz said.
Burton typically goes for an eerie, creepy and chilling approach, but on "Wednesday" you can tell his style was tweaked to seem more approachable to a younger generation.
"I watched some of it, but it was good from what I saw," OHS Senior Adam Johnson said.
Many other Orono students and staff truly enjoyed this coming-of-age horror-comedy.
"I recommend the show to anyone who hasn't seen it and enjoys coming-of-age style TV shows. I thought it was a good balance of horror and comedy, although it wasn't scary," OHS Senior Ella Fellman said.
Not all opinions regarding the show are positive. Rotten Tomatoes shows that some viewers believe without Ortega the show would have been terrible. Many reviews showed that the audience believed that Ortega carried the performance.
"It wouldn't be the same without her, Burton picked her for a reason," Effertz said.
So, if you are bored and scrolling through Netflix, maybe give it a try. Whether you are an Addams Family stan or not, you will probably at least laugh once.
Leave a Comment
About the Contributor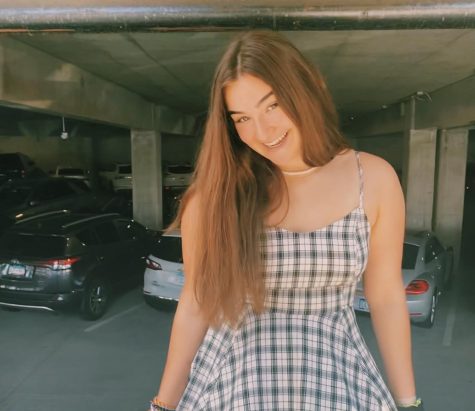 Lucy Ketcham, Visuals and Social Media Editor
Hi, my name is Lucy Ketcham this is my third year with The Spartan Speaks. I play volleyball and I enjoy spending my free time with friends and family....