New Music Suggestions to Listen to With the Windows Down
As the temperature rises and the snow disappears, the long-awaited excitement of spring is finally here. Warmer weather marks the beginning of cranking the tunes while sitting by the bonfire, swimming, surfing. Here are some new music suggestions to listen to with the sun-roof open this Spring and Summer!
Beginning with Beiber, his new album named Justice contains sixteen songs over a forty-five minute and thirty-one second time frame. Justice is currently on the Billboard 200 chart at Number 1. Popular songs include: Peaches, Holy, Lonely and Anyone.
"Justice has an entirely different vibe from his older albums so it was really intriguing to listen to My favorites are Peaches and Holy," senior Juliet Roux said.
The popularity of this album has been influenced by the popular app Tik Tok with the 'Peaches Makeup Challenge' featuring people doing their makeup while singing along to Peaches. The song is currently at 119,806,350 streams on Spotify.
Lana Del Ray, with past hits such as, Doin' Time, Summertime Sadness, Young and Beautiful, and Lust for Life, just recently released a new album named Chemtrails over the Country Club. Her new release is sitting at Number 2 on the Billboard 200 chart.
"Chemtrails over the Country Club is my favorite in the album so far." Coad said. "I really love her music when I'm in the mood to stay home and just hangout," senior Kristine Coad.
For fans of rap music, 6Lack recently released a single with Lil Tjay called "Calling My Phone".
With a bunch of new music from popular artists to accompany the beginning of Spring, the last few months of the school year are looking pretty good. The snow has melted and the sun is out – get outside, smell the roses, and listen to the music!
Leave a Comment
About the Photographer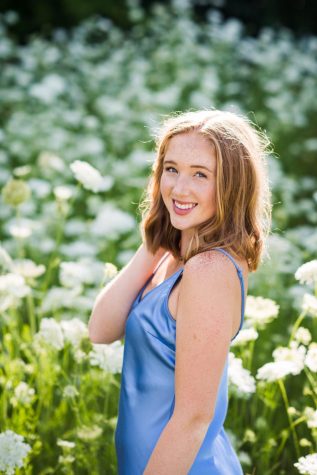 Cate Challgren, Features Editor
Hello! My name is Cate Challgren. I just recently joined The Spartan Speaks Newspaper this year as Features Editor! I am super excited to have the opportunity...