Religious Drawbacks in Response to Global Pandemic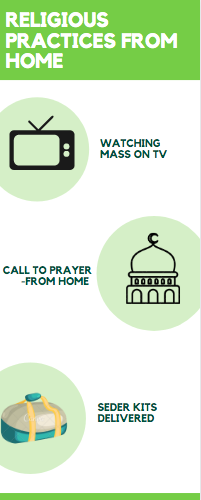 Kenzie Taylor
Editor in Chief
During the first few months since its spread, the COVID-19 virus has taken a toll on families and small businesses globally. Additionally, widespread stay-at-home orders are forcing religious practices to come to a halt as well. Christians have just celebrated Easter, Jews have celebrated Passover, and April 23 marks the first day of Ramadan, the holy month for Muslims.
"I haven't been able to attend church every weekend or get together with my family during Easter," said senior Lauren Reeves, adding that her family watched Mass from home on Easter Sunday.
During Ramadan, Muslim worshippers visit the mosques to pray\; some several times a day. In order to comply with medical advice, Mosques will be closed to the public, to keep people safe and healthy.
Egypt Independent announced on March 21 that all Mosques will be closed during the holy month, which was ordered by Egypt's Religious Endowments Ministry. Call to prayer will still commence as usual, and worshippers will pray from home.
Although churches are offering online services, many churches still remain open.
"Some churches are ignoring stay-at-home orders by their officials. In other states, churches are given exemptions from those orders. All of this begs the question: Are these churches helping the public cope or hurting the public's response to the #covid19 pandemic" writes Ayman Mohyeldin on an Instagram post, an anchor on MSNBC.
"During this time in which COVID-19 is still a significant threat to our health, I believe it is utterly irresponsible for churches to remain open. Not only are they putting themselves in danger, but they are risking the health of others. When we know the risks and have seen the consequences, there is absolutely no reason to participate in such activities, especially when alternatives like online services are available," said senior Logan Rodewald.
For the recently celebrated Passover, The United Jewish Appeal Federation of New York delivered 8,000 seder kits to what they declared vulnerable cities.
Although drastic, these measures are temporary, in order to keep the public safe and to eliminate the risk of spreading and contracting the coronavirus.
About the Contributor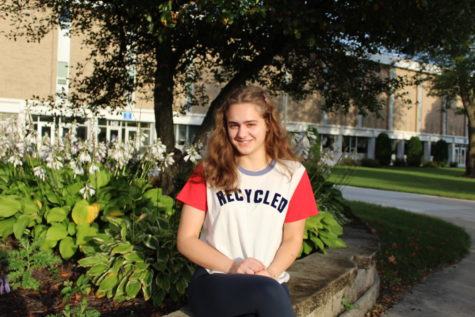 Kenzie Taylor, Editor in Chief
Hi, I'm Kenzie! This is my third year on the Spartan Speaks and I'm super excited to be apart of it as an Editor in Chief. Aside from journalism, other...