'Uncut Gems' dazzles audiences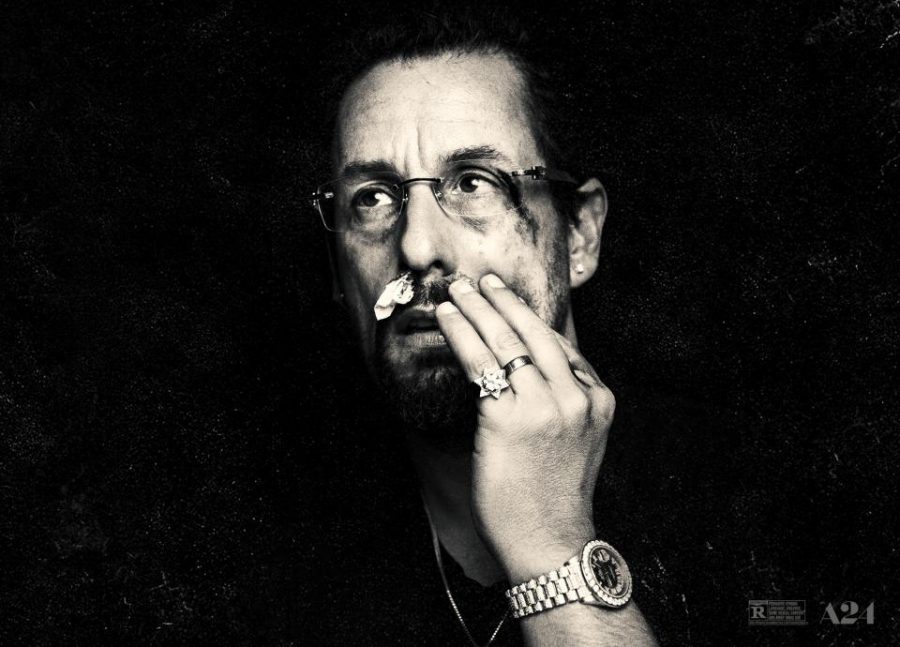 Claire Suchy
Copy Editor
With priceless opals, reckless bets and a bedazzled furby, Uncut Gems is a rollercoaster of events that keeps viewers on the edge of their seat for 135 minutes. Uncut Gems follows the high stakes bet of a jeweler named Howard Ratner, played by Adam Sandler. Directors Josh and Benny Safdie, otherwise known as the Safdie brothers, have a strong return to the big screen following their critically acclaimed movie Good Time, which was released in 2017. With raving reviews, both from critics and audiences, Uncut Gems raked in $37 million at the box office.
The film follows a serial gambler and jeweler, Howard Ratner, through a series of bad decisions and even worse outcomes. A rare Ethiopian opal is what launches Howard on his eventual lethal path. Already drowning in gambling debt, Howard plans to sell the rare opal for a price of $1 million, but this plan is disrupted when Howard gives the opal to Kevin Garnett. Through increasingly bad decisions, Howard continues to exacerbate his current situation.
From the beginning of the film, the audience is quickly introduced to the fickle world of Howard Ratner. He moves swiftly through an unstable personal and professional life looking for any opportunity to gamble. He lives for the adrenaline associated with this addiction, throughout the movie even when it becomes increasingly clear his situation is worsening, he continues to spend money he doesn't have.
Mostly known through comedy movies such as Grown Ups and Billy Madison, Adam Sandler rarely sees himself in a dramatic role, but he effortlessly embodied his character, giving one of the best performances of the year. On paper, Howard Ratner seems impossible to sympathize with\; he willingly enters into unsavory situations, he's plagued with a gambling addiction that has destroyed his life and he rarely empathizes with those around him. Though Howard is a fundamentally flawed human, Sandler delivers a performance that allows the audience to understand and sympathize with him.
Beyond Sandler in the lead role, the film features a supporting cast including prominent celebrities Kevin Garnett, Idina Menzel, The Weeknd and introduces Julia Fox. From playing Howard's mistress, as Julia Fox does, to themselves, as The Weeknd and Kevin Garnett do, the supporting cast keeps viewers enticed with the intricate storyline. With Sandler already giving a spine-chilling performance, exemplary performances given by the supporting cast drive this film to one of the best of the year.
Being only their fourth directorial feature, the Safdie brothers perfectly encapsulated the anxiety felt by Howard through their direction, and even make the audience feel that uneasiness with him. The Safdie brothers have garnered themselves as film festival favorites through their idiosyncratic direction style. A hallmark of the Safdie's style, extreme close-ups, are in full effect throughout Uncut Gems\; through these tight close-ups tension is elevated and the relationship between the film and the audience become more personal.
I would rate this movie 10/10. Through alluring acting, an eccentric storyline and stimulating directing, Uncut Gems breaks every rule that historically makes a movie great, but ultimately renders one of the most intriguing films of 2019.
About the Contributor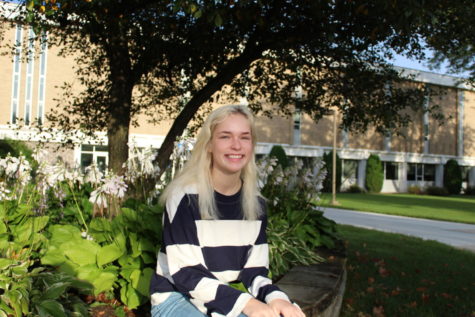 Claire Suchy, Copy Editor
Hello! I am currently at Senior at Orono High School. This is my third year in journalism, which is one of my favorite classes. It is my second year working...