'Joker' Review: a Harrowing Descent into Madness
Hang on for a minute...we're trying to find some more stories you might like.
Sam Capece
News Editor
This October, Joker was released in theaters, starring Joaquin Phoenix and directed by Todd Phillips. The film is centered around a failing comedian named Arthur Fleck, and the way in which he manages his mental health while caring for his sick mother. Throughout each meticulously crafted scene, Fleck is beaten down by the dark nature that is Gotham city.
Accompanying the movie release on Oct. 4, the film received complex audience feedback; many people were disgusted by the bleak and tragic nature of the film, arguing that it brought no significant messages. Others were moved by the movie, and the dark yet poignant themes were revealed despite the immediate negativity surrounding the film.
As the story progresses, a perfect storm of events completely shift the way he views the world, and Arthur Fleck transforms into the Joker. Fleck's apparent struggle with mental health give a profound insight into his view of comedy, and his socially inept characteristics. Fleck's social unawareness leads him to laugh inappropriately within social interactions, an example of how he is constantly dissociating from reality.
Fleck is misunderstood by society, and is often beat by delinquents on the street due to his clown costume. After this he is given a gun by a coworker, which he drops during an act causing him to get fired. On the train ride home he is mocked and assaulted by three young and arrogant businessman, and he quickly kills them in self defense. A multitude of following events causes a downward within Fleck. When Fleck walks out onto the stage of Murray's late night show introduced as the Joker, wearing his colorful suit and face paint, the movie reaches its climax that won't fail to shock the audience.
Director Todd Phillips masterfully directs each and every scene, "I wanted the scene to feel really oppressive like Gotham is always over Arthur, leaving no blank spaces in the skyline" Phillips said. Throughout this particular interview on Vanity Fair, Phillips explains how he crafted each cut in the opening scene. The movie creates an acutely perfected atmosphere with the grimy dark city, muted colors, and panoramic shots.
It is valid to interpret the movie as a bunch of beautiful scenes tied loosely together by Joaquin Phoenix's brilliant acting, but there are many prevalent and dark themes at play. Phillips highlights the consequences of complete ignorance to mental health and the separation people feel within a society that is plagued by economic inequality. The events leading to Fleck's downfall were never pieced together by any of the other characters in the movie, which had catastrophic consequences. The theme of misunderstanding is shown through Joker's view on the world, as well as the world's view on Joker.
The movie did what it was meant to do; it told the backstory of a character known for violence and controversy. Viewing the movie as another story within the DC universe highlights its uniqueness. There are many references to the extremely popular Dark Knight trilogy throughout the movie which adds yet another layer of depth. Joker gets a 4.5 out of 5, as it successfully captivates the audience; the story it tells is unique but not fully fleshed out.
About the Contributors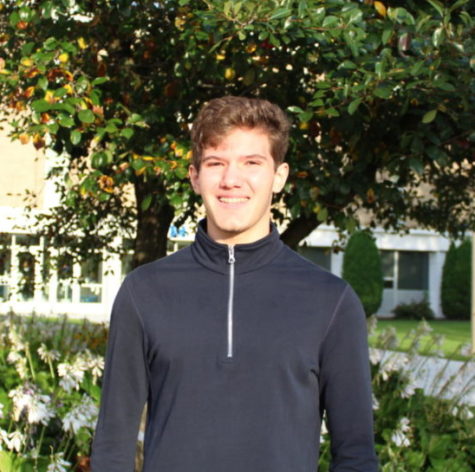 Sam Capece, News Editor
Hey, my name is Sam Capece and I'm a senior this year at Orono High School. I'm really excited to be working on The Spartan Speaks paper this year. I've...