Cosmetics and Sensitive Skin – Review
Hang on for a minute...we're trying to find some more stories you might like.
As someone with sensitive skin, I have always been diligent about what facial products I use. In many cases, I lean towards brand names like Neutrogena and Bioré. In my head, brand names tend to be more tested therefore they are safer on my skin. I tested my theory by trying multiple different products both of brand names and store names.
The first brand name product I tried was Neutrogena Oil-Free Acne Wash Cream Cleanser. I don't tend to get massive breakouts, but I do get a few pimples here and there. The cream came in an orange tube and was a whitish cream. It costed $7.49.
Looking at the list of ingredients, I was glad to find that I knew two of the terms. The product contains, well, water, and 2 percent Salicylic Acid. Salicylic Acid acts as a medicine to prevent further breakouts while at the same time clearing the current acne. Because the product uses this, skin has less of a possibility of drying out.
After a couple of nights applying the cream, I saw immediate results. My pimples were gone and my skin maintained its soft texture. I would give this product 5 out of 5 stars because,well, one, it actually worked, and two, it didn't burn my face like most acne cleansers.
I compared this product to Target's Up & Up Oil-Free Pink Grapefruit Acne Wash. This is probably one of the most awful products I have ever used. The foaming scrub came in a pink and white tube and costed $4.79. It might look pretty, but it will mess with your skin.
The list of ingredients was about double the amount of those of Neutrogena's. The amount of different "chloride's" included is slightly frightening.
This caused me to breakout by my chin. So, basically, the product that was supposed to get rid of my small pimples created more, along with introducing red dry skin wherever I put the product–which also came with a slight burning sensation. I would give this product 1 out of 5 stars because the packaging looked pretty and the price was cheaper than Neutrogena.
For make up remover, I tried Target's Up & Up Exfoliating Wet Cleansing Towelettes. They cost $1.99 for a pack of 30. They came in cucumber flavor which made me cautious due to my previous experience with cucumber products being corrosive to my skin.
The towelettes include ingredients like phenoxyethanol, sodium citrate, citric acid, disodium edta, benzoic acid and dehydroacetic acid. This was somewhat alarming considering how many acids were listed, but I needed to remove my makeup.
The product took a few wipes to go into effect, but after about 5 or 6 wipes my makeup was mostly, if not completely, gone. I would give this product 4 out of 5 stars. 3 stars for removing my makeup and 1 star for not burning my skin. It would have been more convenient if the product removed my makeup quicker–that is why it lost a star.
The next product I tried was Neutrogena Makeup Remover Cleansing Towelettes. They cost $7.99 for a pack of 25. The towelettes are meant to clear makeup in one quick wipe across the face. The product includes many ingredients that I can't pronounce, or begin to comprehend, like sucrose cocoate, carbomer, dehydroacetic acid, phenoxyethanol and iodopropynyl butylcarbamate.
The product worked extremely well. So well, in fact, that it removed all of my makeup in two wipes. The only downside was that it also removed my skin. I suffered fromdry blotchy red skin under my eyes for about three weeks. No moisture product seemed to work to fix the dryness. After a trip to the doctor, I was told I had to put petroleum jelly over my eyes each night before going to bed until it healed completely. I still have to continue doing it otherwise my under eyes dry out.
I give this product a -5 out of 5 stars because my skin under my eyes is forever ruined. They also took $7.99 out of my wallet and I am not happy. Instead of using corruptive makeup wipes, I recommend using petroleum jelly which costs $1.67 for a 1.75 oz. jar.
After trying multiple different products both through Target and Neutrogena, I have come to a conclusion. I just really should not be using any product on my skin besides petroleum jelly. Two out of four of the products I tried burned my skin and one of the other products just barely worked. Although Neutrogena's Oil-Free Acne Wash Cream Cleanser was effective, I think I'll just stick to my petroleum jelly for all things skincare.

About the Contributor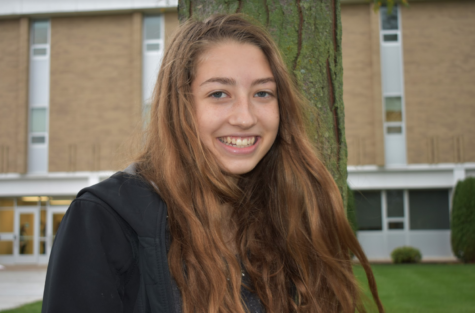 Ella Weinbeck, Features Editor
Hi, I'm Ella Weinbeck, the Features Editor and a cartoonist for The Spartan Speaks Newspaper at OHS. I am really excited about this year for The Spartan...