The truth about apple products
Hang on for a minute...we're trying to find some more stories you might like.
Katie Udell
Editor in Chief
On Jan. 9, 2007, Steve Jobs, the innovative phenomenon, introduced the first iPhone at the Macworld convention. Later that year, on June 29, 2007, the first iPhone was released to the public. Today, people around the world are using iPhones, but what are the downfalls to the cons of the product that allows the world to revolve?
The first iPhone was priced between $499 and$599; based on the amount of GB each phone contained. In the first weekend alone, between 250,000 and 700,000 phones were purchased. 149,000 iPhones were activated in the first weekend after the iPhone was released to the public, according to AT&T.
"
One of the biggest downfalls of Apple products is the battery, phones battery percentage can drop a high amount in a matter of minutes,"
— Anna Tesar
Today, iPhones have taken the world by storm. It is estimated that 223 million people would own an iPhone in 2017, which amounts to 83.8 percent of all mobile users, according to Statistica.
Orono High School also has an incredibly high number of students who own Apple products. In a recent poll of 50 students, 98 percent of students own at least one Apple product. However, students have also complained about certain negative aspects of their beloved mobile phones.
The culprit: broken phone screens. The glass screen may be easy to use, but the consequences of a shattered phone screen aren't worth the cut up fingers as users still operate on the broken glass.
There are student reports of the screen so demolished that chunks of glass break off, entire screens peel off and home buttons are no longer in existence.
"I have been using Apple products for the past eight years, since then I have broken five iPhones due to the low quality of the screen," senior Anna Cleveland said.
15 percent of Americans are operating their iPhones with a cracked screen, according to SquareTrade Protection Plans. SquareTrade also states that damaged iPhones have cost Americans $10.7 billion, $4.8 billion in the last two years alone.
Although the cracked front screen caused a negative uproar, a previous trend of purposely cracking the back of the iPhone 4's glass was common among teens at the time. Cracking the back of phones and filling in the cracks with colorful sharpie designs was a fad back in the day. Due to the new design that came with the iPhone 5. the fad came to an abrupt halt, as the back of the phone was no longer able to be cracked and colored.  
As Apple technology continues to soar, the quality of products has flourished. The screens are now more durable and screen protectors have been designed to further protect damage from occurring.
"As technology gets better, I have noticed that the quality of the products are getting better as well," Cleveland said, "unfortunately it's just not worth spending $1000 on a new phone."
One of the most recent and applaudable improvements Apple has implemented is the facial identification. Apple did not introduce facial identification until the release of the iPhone X, earlier this year. In past years. Samsung's Galaxy S8, s8 Plus and Note 8 have all incorporated all of the following biometrics: face, fingerprint, and iris (the "Siri" of Samsung).
Samsung is a top competitor of Apple. Between Apple and Samsung, Samsung offers lower prices, higher overall camera quality, larger screen display, and a higher dust/water resistance, according to ZDNet.
Between the iPhone X and Samsung's Galaxy Note 9, both cost roughly the same price. Listed below are the top features of the Note 9 that outshine the iPhone X, according to Business Insider.
Twice as much storage (128 GB vs 64 GB)

Larger and better screen

Fingerprint & facial recognition

Faster charger

Headphone port

Built-in pen
"One of the biggest downfalls of Apple products is the battery, phones battery percentage can drop a high amount in a matter of minutes," junior Anna Tesar said.
So why do so many people still continue to choose Apple over Samsung?
Apple drags you in–gets you hooked on Apple Music, Air Pods, iTunes, and iMessage. Switching to another brand like Samsung wouldn't be the "cool" thing to do. When you buy Apple you are not just buying a brand, but a lifestyle.
"I only know one person, my aunt, who doesn't own an iPhone," senior Emma Dalton said, "I would never be able to own a Samsung because no one uses them, no one even knows how to use them."
Apple continues to outsell Samsung on a regular basis, although the Note 9 offers better features.

About the Writer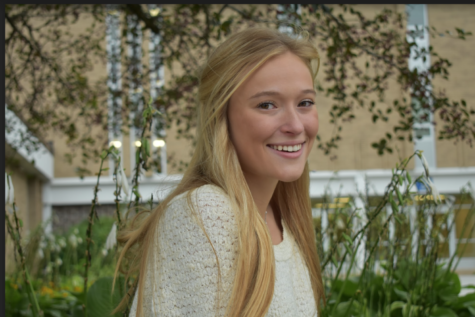 Katie Udell, Editor in Chief
My name is Katie Udell and this is my second year working with The Spartan Speaks! I am currently a senior at Orono High School. I am very honored to be...