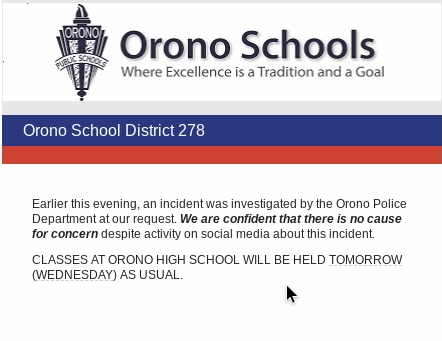 OHS resolves social media scare, unrelated to lockdown
On Tuesday night, Orono Schools sent out a message, alerting students, parents and staff of a gun-scare incident that had occurred over social media. After swift investigation that started around 6 p.m., it was concluded that there was no legitimate threat and that school would proceed as usual the next day. The lockdown on Wednesday had no relation to this incident.
After a former OHS student sent out an image of a gun, along with a concerning message, over Snapchat, screenshots of the picture circulated around group messages and social media, prompting students to alert OHS teachers. By request of the school district, the Orono Police Department investigated but found no cause for further concern.
Those who were signed up for text message alerts by the school district or were on the district email list, received a message that is pictured above.
Today, during the morning announcements, Principal David Benson assured students of the school's dedication to their safety. He also asked students to be where they are supposed to be and to use the main entrance.
"Again, we want you to know that student safety is a priority for all of us and always, and it's important for us to be able to follow through with any concerns you may have–so if something comes up like this post did last night, if you're concerned about something or someone please let us know," Benson said, "Find a way to get that information to a teacher, counselor, administrator, police officer–we will track it down."
With the Stoneman Douglas High school shooting on Feb. 14, authorities have been advising students to alert officials if they see something or someone suspicious. Although last night's Snapchat scare was a false alarm, the expediency with which it was dealt with reassured many and served as an example of how suspicious activity can and should be reported.