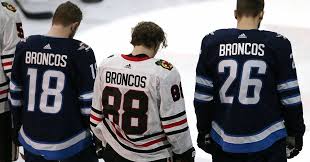 Humboldt Strong
May 17, 2018
On the date April 6, 2018, the hockey world was shaken by a horrible tragedy. The Humboldt Broncos were on their way to a playoff game in Nipawin, Saskatchewan when they collided with an oncoming semi-truck. The crash occurred at an intersection where one of the vehicles had gone through a stop sign colliding with the other.
The crash tragically killed 14 people including 11 of the players of the SJHL(Saskatchewan Junior Hockey League) hockey team along with other staff members of the organization. The friends and families mourn as they find out that they have lost their sons. Only a few of the hockey players made it out but were hospitalized due to the severity of their injuries.
As the hockey world is notified about this tragedy, the survivors of the crash lay in their hospital beds sitting and praying for those who lost a loved on that day. This is when the hockey community really came together. The support of other leagues and organizations really helped raise money for the families who had lost a loved one.
Since the crash happened around playoff season for most hockey leagues, the NHL ( National Hockey League) decided to support the cause by putting stickers on the back of every player's helmet that had the Broncos logo on it. It also had the saying "Humboldt Strong" on the stickers.
However, the NHL was not the only one that wanted to support the cause. The entire hockey community all around the country decided to place all of their hockey sticks outside their homes as a sign of respect for the hockey players that were lost in the crash.
The saying that went along with this action was "Sticks out for Humboldt."
The night of April 7, 2018 the Chicago Blackhawks and the Winnipeg Jets, along with many other NHL teams wore the name "Broncos" on the back of their jerseys the entire game to honor the victims of the crash.