Orono DECA Students ImpactLives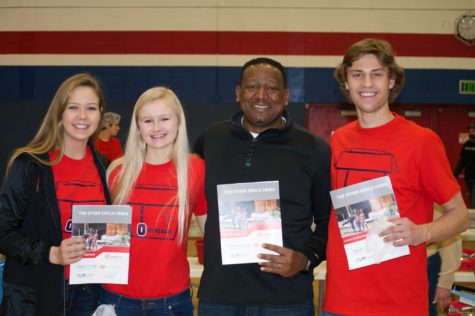 In the last several years, ImpactLives has made a reputation for itself around the Orono community.
Students who attended church with the founder of ImpactLives, Ramon Pastrano, recognized the hunger in their communities and around the world, so they enlisted Pastrano to help them make a difference.
"The last food packing event that Orono held was done in partnership with ImpactLive," DECA Advisor Keith Jurek said.
Ramon is the founder and visionary of ImpactLives, and he also "connects with people and works on ensuring their vision is completely fulfilled," Pastrano said.
Last year, Ramon and his implementor, Cathy Bergland, paid a visit to Orono Middle School (OMS) to teach the students the importance of service learning, and actually involved them in a project being carried out by Orono High School (OHS) students traveling to the Dominican Republic the following summer.
"I think knowledge is a huge part of this, and future leaders are developed when they know the best way to give," senior Avery Rasmussen said.
This year, OHS seniors Kristie Tunheim, Avery Rasmussen and Will LeNeave saw the problems the people of Liberia were facing after the Ebola epidemic, and chose to direct their DECA project towards relief efforts that involved the entire community.
"With regard to the project, I am very impressed that they had the courage to do something this big. We presented them with a challenge and they decided to take it on, and most importantly, they decided to do it the right way." Pastrano said.
Leading up to the grand finale—the food packing event held Feb. 3— the group of DECA students chose to raise funds in a way that entertained and got the high school involved.
"I wanted to do something that was actually tangible, not just hypothetical," Tunheim said.
Their first fundraiser was the school's first ever color run, followed by Survivor week, inspired by Wayzata High School. They also brought in Pastrano to aid them during their school wide presentations on the importance of service learning.
"I think this year's group has taken the approach of creating awareness of hunger, and that the need really exists," Jurek said.
The group felt fully supported during both events, giving them the confidence they need to pull of the food-packing event.
"We are very fortunate, we come from a very privileged environment, and when you have the means to do things for others, you should do them," Jurek said. "It is also about understanding individually and collectively that you can really make a difference."