The Immersive Van Gogh Exhibit Astonishes Viewers
The Immersive Van Gogh Exhibit in Minneapolis is an astonishing animation of Van Gogh's paintings projected onto the exhibit walls and floor. Lasting approximately 30 minutes, the animation displays each of his paintings melting into the next in a new and unique way each time.
With each ticket purchased you receive an hour of viewing time, there are a few different options for tickets. Keep in mind, ticket prices are subject to change based on the time and day you visit the exhibit. If you drove, you will also need to pay for parking. The facility has valet parking available, and the exhibits parking lot only costs ten dollars, or you can park in nearby parking lots.
According to the exhibit website, there are four different ticket options available. The VIP Flex costs around $99.99 plus fees, the exhibit website considers this the best experience. The multitude of its amenities includes flexible admission, priority access, a limited edition poster, a VIP souvenir laminate, a Van Gogh cushion and flexibility to arrive within two hours of your scheduled time, as long as it's within operating hours.
A step-down and the most popular ticket option is the Premium Flex, which costs around $64.99, plus fees. This includes flexible admission, a limited edition poster, a rented Van Gogh cushion and flexibility to arrive within two hours of your scheduled time- as long as it's within operating hours.
The option my family and I chose was the Basic Timed option. It costs $54.99 plus fees, this only includes your regular fixed-time admission. If you have children, they receive a discounted price, as the regular ticket for a child with the ages six to 16 years costs $34.99 plus fees.
My experience with the Basic Timed admission ticket was an amazing one, I left the building, a bouquet of fake sunflowers in hand, and a giddy grin atop my face.
If you are interested in the exhibit, I recommend checking out the website https://vangoghmsp.com. The current hours of the exhibit are Friday and Monday, from 1 pm to 8 pm, Saturday 11 am to 8 pm, Sunday 11 am to 6 pm and Tuesday through Thursday they are closed.
After you check in, an employee will show you a small map of the layout, inform you not to use flash photography and then you are welcome to enter. Upon entering the exhibit, the first experience is exhibit room one.
Room one has mirrors throughout the room and a few benches in the corners. The projections in this room are only on the walls. My sister and I stayed in this room for about ten minutes, sitting on the floor observing the amazing animation.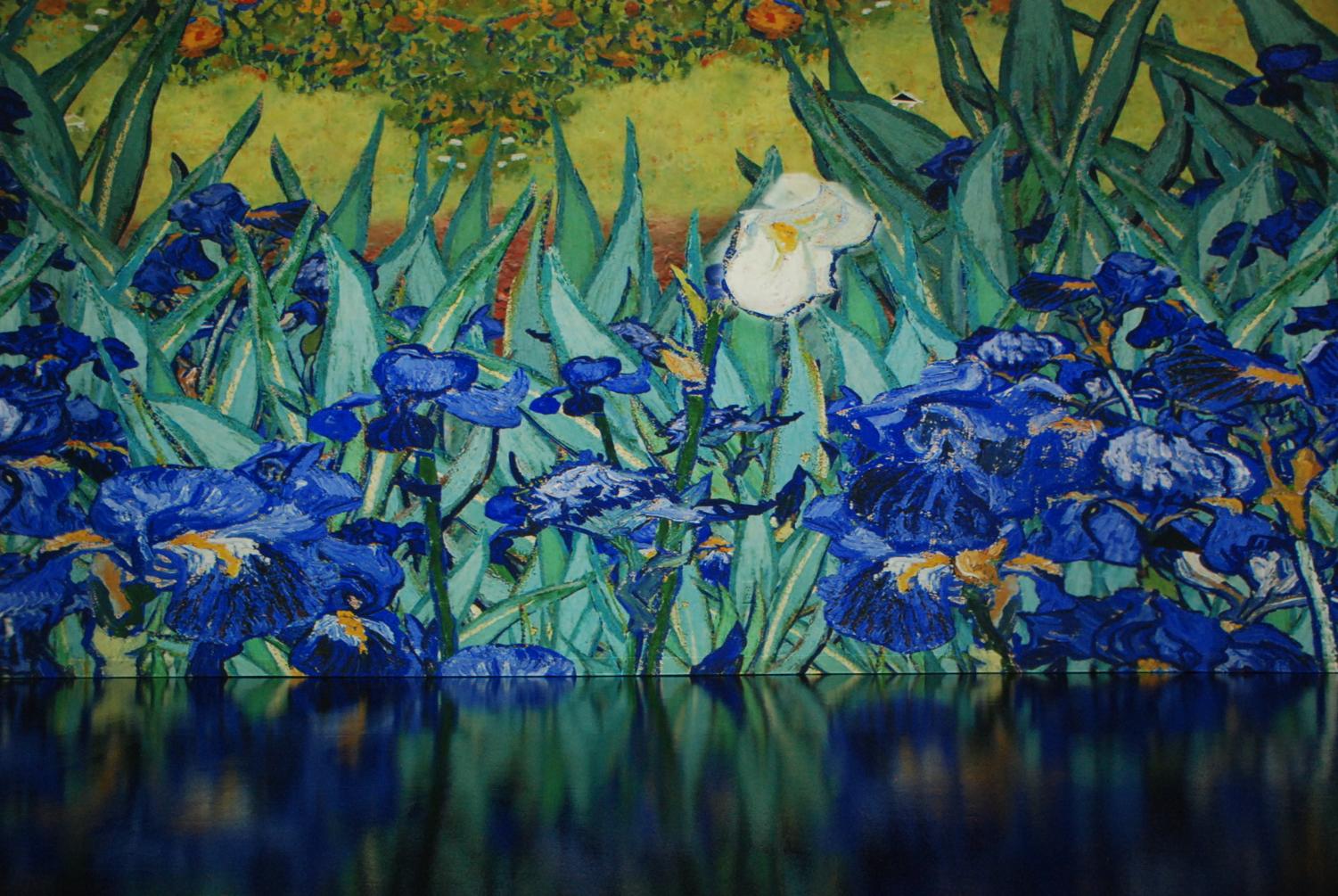 Room two is easily accessed through a small conector hallway, this room is much larger. The projections cover both the walls and the floor, an array of small white benches and tall mirrors are scattered around the room.
I preferred room two over the first because it was much less crowded and the projections on the floor added a nice touch. Both rooms project the same animation at the same time so regardless of which room you are in you won't be missing out.
The animation is accompanied by audio, at some points its instrumental and others it coincides with parts of the paintings or the animation aspect of them.
If you have ever experienced a Van Gogh museum, this will not be a similar experience. Although the media is the same, the creative depiction the animation provides will allow you to see it from a different perspective.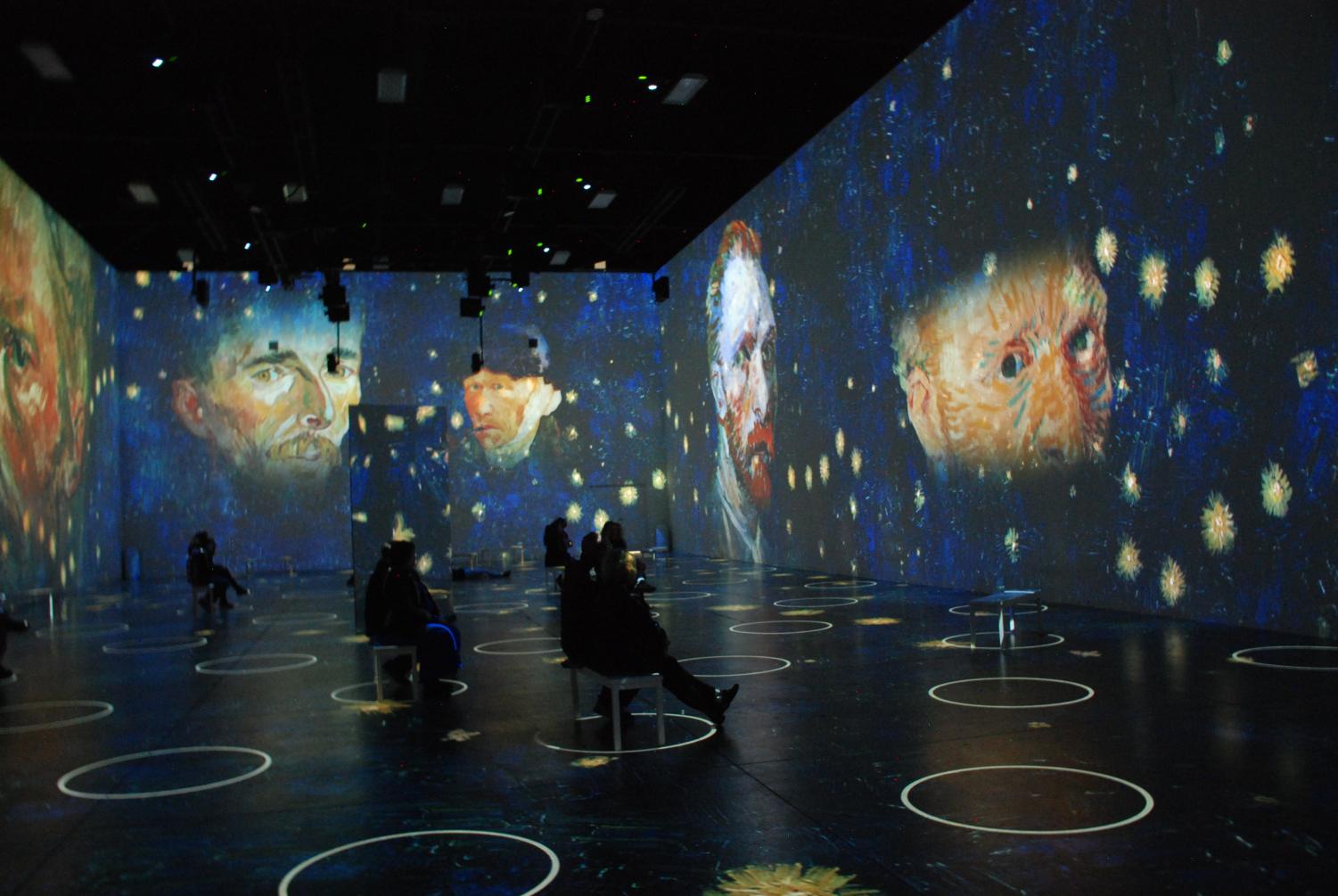 The exhibit includes a variety of Van Gogh's works including Irises, Bedroom in Arles, Head of a skeleton with a burning cigarette, Flowering Plum Orchard, The Mulberry Tree, a variety of his self portraits and many more of his astonishing works.
After your time is up, you exit out and are offered a fake sunflower- one per person. You then enter the gift shop, there is a variety of Van Gogh merchandise such as, hats, backpacks, pins, masks, calendars, lanyards, etc.
If you happen to be out of town, the exhibit is also available in other cities. This includes New York, Los Angeles, San Francisco, Charlotte, Phoenix, Toronto, Dallas, Houston, Las Vegas, Pittsburgh, Denver, Detroit, Columbus, Nashville, Kansas City, Cleveland, Orlando and San Antonio.
If you haven't yet visited this exhibit or any of the others, I highly recommend you experience the peculiar rendition of the astounding works of Vincent Van Gogh. If you have some extra time before or after your visit there is an excellent variety of delectable restaurants in the area.
Leave a Comment
About the Contributor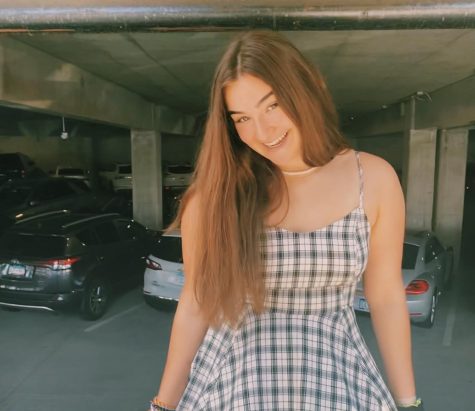 Lucy Ketcham, Visuals and Social Media Editor
Hi, my name is Lucy Ketcham this is my third year with The Spartan Speaks. I play volleyball and I enjoy spending my free time with friends and family....