Spider-Man No Way Home Review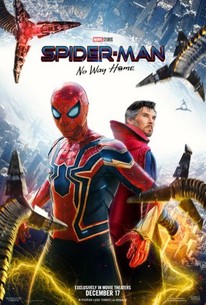 After seven movies, three trilogies, and three different actors, Marvel Studios is ready to wrap up almost two decades of Spider-Man movies on December 17, with the release of Spider-Man: No Way Home, starring Tom Holland as Peter Parker, Jacob Batalon as Ned Leeds, and Zendaya as Michelle Jones.
One major claim to fame of Spider-Man: No Way Home, is bringing together all three trilogies of Spider-Man movies, with Green Goblin, Doc Ock and Sandman being from the original or Tobey Maguire trilogy; Lizard and Electro being from the Amazing Spider-Man or Andrew Garfield trilogy; and of course Peter and his friends being from the Marvel or Tom Holland trilogy.
The story immediately picks up from where Spider-Man: Far From Home left off: with Peter's true identity as Spider-Man being exposed to the world, thanks to former antagonist, Mysterio and news anchor, J. Jonah Jameson. Peter is being framed for the murder of Mysterio, and he has to defend himself, along with his friends and family from the public.
When a spell casted by Dr. Strange goes awry, several villains from previous Spider-Man films return with a thirst for revenge. Dr. Strange's solution is to send these people back to their own universes all at once, and Peter agrees. However, when Peter meets Green Goblin, or Norman Osborn, who explains that he has nothing in this new universe, having no family, business or home to return to, he changes his view on Dr. Strange's plan. Later, Peter also finds out that all of these villains are destined to die in their own universes, so he tries to convince Dr. Strange that sending these people home isn't the best solution.
Jon Watts, the director of the film, did a spectacular job of balancing all the villains, giving each one the appropriate amount of screentime, without any of them ever feeling like they're being pushed aside. Even if someone was not familiar with any of the returning villains, the film explains enough of their backstory and origins for the rest of the movie to make sense.
As for the critical and commercial success, so far Spider-Man: No Way Home has a rare Rotten Tomatoes audience score of 99 percent, a 4.9/5 rating from viewers on Google, and an astonishing opening day box office of over $121 million – the second best opening day of all time, trailing behind Avengers: Endgame.
Spider-Man: No Way Home is a strong contender for the best Marvel movie so far; there's the perfect balance between comedy and drama, plenty of twists and turns, the visual effects and musical score are both stunning, and tackles the emotional struggles of the protagonist better than any Marvel movie prior.
Leave a Comment