School Mental Health Is Not Just for Students: Teacher Health and Wellness Is Important
Mental health relating to school usually refers to the wellness and health of students. However, this also touches on the wellness of teachers and educators. With the COVID-19 pandemic, school staff, specifically teachers, experience large amounts of stress. According to the American Psychological Association (APA), 60 percent of individuals in the United States have reported that work was a top source of stress in their lives.
The APA's Center for Organization and Excellence found that around 33 percent of Americans have revealed that they have chronic work stress. Stress-related disorders are a lot for staff to handle and can be associated with negative mental and physical health outcomes.
"My typical day consists of getting to school around 7a.m. Then, I start prepping for the school day, and around 7:30 kids start coming into my classroom to ask questions. I teach six periods out of a seven period day, and it is pretty crazy with students being at home and at school. After school I work on homework, correcting assignments, and planning for the next day. Sometimes I don't get off my computer until 10:00 at night," mathematics teacher Kristin Frey said.
The World Health Organization (WHO) reported that mental health is one of the most overlooked areas in public health. Around 1 billion people are living with a mental disorder, 3 million people die per year because of the use of alcohol, and someone dies every 40 seconds by suicide. Now, billions of people around the world are being affected by the COVID-19 pandemic, which is having a significant impact on people's mental health.
When looking at the mental health of teachers, the statistics are not much better. The American Federation of Teachers (2015) found that 78 percent of teachers are feeling physically and emotionally exhausted, and that was even before this global pandemic.
"The beginning of the year is always a stressful time, but I have never felt such pressure and anxiety, and the feeling of no control over what is happening," second grade teacher at Banaadir Elementary Hannah Zobit said . "Mental health is definitely at an all time low. As a teacher I feel like I have to put on this positive front, and be super upbeat with my kids, but it's really hard."
Data from the Gallup-Healthways Well-Being Index found that 46 percent of teachers in the K-12 settings report high levels of daily stress. The level of stress is similar to nurses (46 percent) and physicians (45 percent), and is one of the highest amidst the 14 professional categories included in the study.
Megan Hayes, a first grade teacher at Hmong College Prep Academy, said that her mental health deteriorated from an eight to a five (out of ten) amid the COVID-19 pandemic.
"The stress of learning technology with first graders has become very stressful. Using the keyboard, finding letters, and having almost everything online has been tough for them," Hayes said.
In the United Kingdom, Education Support released a Health Survey, which found that 75 percent of teachers, assistants, and other school staff have experienced a variety of anxiety and stress related symptoms. Almost one in five (19 percent) said they had experienced panic attacks. Over half (56 percent) have struggled with insomnia and troubles sleeping. Over a third (41 percent) have experienced difficulty concentrating.
"Self care is super important. I also feel like self care is very hard, because it is becoming a work that everybody's telling us to do. It's hard to understand what self care is because it is getting shoved down our throats. We are being told to make more time for self care, but there's not enough time to do self care," Zobitz said.
"I am trying to enjoy as much time with my family as I can, and spending lots of time with my dog, Winter. Getting the chance to slow down and prioritizing what is important to me has made a huge impact on my life," Kali Kuusisto, a second grade teacher at Prairie Seeds Academy said.
There are ways to reduce the stress and anxiety for teachers. Western Governors University came out with an article with tips on how to reduce that stress. Examples include breathing techniques, embracing imperfections, having grace with yourself and others, and asking for help when necessary.
According to the International Board of Credentialing and Continuing Educational Standards, now more than ever, teachers have one of the most important jobs available. Student mental health is becoming one of the top issues schools are facing across the United States.
Holy Name of Jesus Catholic School has started to implement mental health awareness into the classroom.
"For the first time ever we have a full piece of curriculum focused on mental health. For example, we have talked about breathing techniques, yoga positions, and talking about how to deal with situations when you are worried about them. It seems to be helping. I have seen some kids use the breathing techniques who have test anxiety. It seems to have helped them a lot," Mary Davy, a fourth grade teacher said.
"I try to focus on as many positives as possible," Frey said, when asked about positive takeaways from the pandemic. "We are all very resilient, teachers and students. We are all trying to make the best of the situation. The biggest thing is not letting stress get to you. Some days are harder than others, but try not to let it run your life."
Leave a Comment
About the Contributor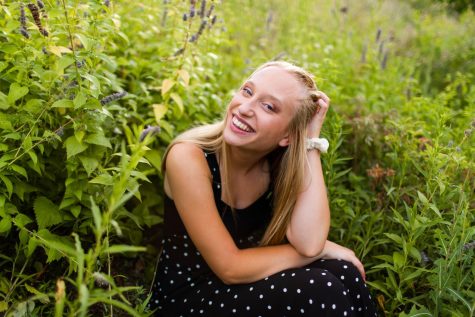 Tillie Hogenson, Health and Wellness Editor
Hello! My name is Tillie Hogenson. This is my second year on The Spartan Speaks. I am very interested in the newspaper and love meeting new people with...