Athlete of the Month: Lilly Anderson
Jordan Allar
Sports Editor
Our girls' athlete of the month is tennis captain Lilly Anderson. Anderson has been a captain for two years and has been on varsity for three. Freshman year she was a varsity soccer player, and decided to make the switch over to her true passion. She first picked up a racket at the age of eight and has continued to play ever since.
As a captain, Anderson starts practice off with some conditioning, leading into drills and then playing competitively with other teammates. Every player has challenges within their game and Anderson has been trying to overcome them. Being a captain takes a lot of work and responsibility, from leading captains practices and making sure that all players are comfortable and involved with one another.
 "I definitely have had some challenges within my game, but my main challenges were my forehand and confidence," Anderson said.
Anderson has had many achievements throughout her years on Orono's tennis team. She has made it to state twice as a singles player and is grateful for the time she has spent with the team. Anderson's goal has been to make an impact on the players and Orono tennis for the better.
"
People actually want to play outside of the season because of what me and some other teammates have set an example for"
— Lilly Anderson
Anderson prepares for her matches in a unique way, but possibly is a reason why she has been so successful. "Sometimes I eat airheads before my matches," Anderson said. Her stamina and fitness are her key strengths and is why she tends to last longer against her opponents.
Anderson sees herself playing at a division three university but will try to walk on to a division one team.
"I enjoy the feeling when I play the game," Anderson said.
Anderson spends a huge amount of her time training and coaching younger players tennis skills, but outside of the sport, she is involved in Orono's chamber choir of three years, is a member of senate and National Honors Society, and tutors students within the Orono community. 
One key word to describe Anderson's feelings towards her career and her team is "thankful." She is thankful for the love of the game and memories that she has made.
About the Contributor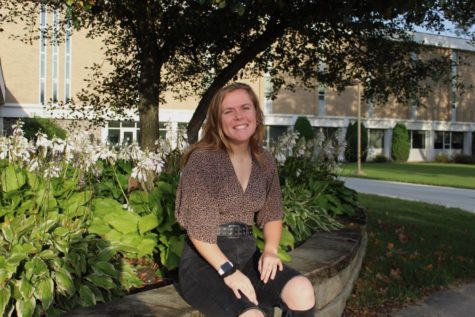 Jordan Allar, Sports Editor
Hello! My name is Jordan Allar and I'm a senior at Orono High School. This is my second year being on The Spartan Speaks. I play varsity softball here...