What is Brexit?
Hang on for a minute...we're trying to find some more stories you might like.
On Jan. 1, 1973, Britain joined the European Union, gaining perks like free trade with other European countries, the ability for citizens to travel and work easily anywhere in Europe, a large security and protection program that supports and connects all countries in the union and other business advantages including a membership to a world superpower institution.
46 years later, on March 29, 2019, the European Union will vote on whether Britain will leave the EU.
Britain is requesting to leave the EU under former British Prime Minister David Cameron and current British Prime Minister Theresa May. This request is known as Brexit; under Brexit, Great Britain will lose perks of being an EU member and the tight-knit relationship with Europe.
"
Brexit is disadvantaging. All the older people want Brexit because they want the UK to go back to the time where they were the world superpower"
— Emma Davie
Britain originally requested to leave the union to be an independent nation. The freedom of controlling immigration, trade and other diplomatic endeavors without being restricted by the EU was appealing to many British citizens. Unfortunately for Great Britain, it's not that simple to cut losses with such a powerful institution like the European Union.
The Brexit case was first made by British politician Peter Wilding in 2012. Wilding founded his own organization called "British Influence" which originally proposed to the EU why Britain should leave the union.
"Brexit is like asking your average Joe to do brain surgery, the EU is incredibly interconnected but extracting an economy and national laws from the EU seems very short cited. I do not think your average Joe or Joan can comprehend the implications of extracting," literature teacher Larry Williams said.
There are four different versions of a deal to present to the European Union made by British politicians.
The most likely outcome of Brexit will be a "No Deal" agreement, meaning Britain will leave the union immediately and no negotiations will be made. Britain will be able to make its own migration policies and get control of its borders. However, they will have to install hard borders between the Republic of Ireland (member of the European Union) and Northern Ireland (member of Britain). Transport and trade will be much more difficult for British imports and exports, affecting business for millions. There will also not be any specific regulations for Brits living abroad. British parliament does not want a "No Deal", but this might be the outcome if politicians can not agree by March 29.
"Brexit is disadvantaging. All the older people want Brexit because they want the UK to go back to the time where they were the world superpower," Junior and Scotland native Emma Davie said.
Due to the harsh reality, Britain will potentially face if they end up with No Deal, May and her parliament are requesting a delay to ensure they have a second referendum.
"It may be the only way out, it doesn't look like they will have an agreement, the amount of effort it will take to get Britain out. The cost will outway the benefit," American history teacher Dennis Lynn said.
A "Hard Brexit" means Britain will lose all of their EU amenities, so the British government will be able to make their own rules and regulations and be able to form trade deals with other countries independently. For British and European citizens this means that it will not be so easy to travel between the UK and Europe, and Europeans living in the UK will have to apply for settled status to remain in Britain.
Soft Brexit is the deal that will keep the UK closest to the EU and will result in little change. Under this, Britain would still be tied to European rules and would not be able to trade independently. There would be no tariffs, but the UK would face non-stop competition from European countries that can produce the same product for cheaper. Soft Brexit would mean Britain would pay the EU to ensure they have the four freedoms of movement of capital, people, goods, and services.
"I have never heard of Brexit but I think that Britain does not have to be tied down to the union," said senior Alex Maxwell.
Prime Minister Theresa May constructed her own plan called the Chequers Deal, to try to appeal to all sides. May constructed an agreement that she wants the EU to sign to keep trade peaceful between Europe and Britain after they leave the union.
Furthermore, May wants to leave the union but stay in the EU single market to avoid tariffs and delays at borders. Free movement would end and Britain would take control of their own migration of citizens. This deal might be able to avoid a hard border between Republic of Ireland and Northern Ireland. This deal is facing a lot of criticism from the European Union, Theresa May's parliament and the general public. Many view May as trying to cherry pick what she wants and doesn't want from Brexit.
"I think the UK is going to get a really bad deal, and everyone is going to be unhappy. No one wants to deal with the fallout of Brexit. Theresa May is still in power because it is her problem, those other politicians do not want it to be their problem. Britain does not have the strong bargaining power, so the outcome will be painful," said world history teacher Michelle Naylor on her Brexit prediction.
Theresa May has faced lots of criticism and is known as shy and antisocial in diplomatic situations, people have begun laughing at her instead of respecting her. However, Prime Minister May has no easy task having the future of the united kingdom resting heavily on her shoulders.

About the Writer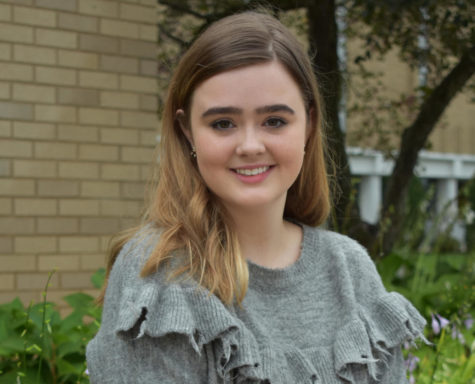 Emelia Lowe, Opinons Editor
Hello, my name is Emelia Lowe, I am this year's Opinions Editor and fashion columnist. This is my second year in Journalism and fourth year contributing...